WHAT YOU CAN LEARN FROM 
LIVED EXPERIENCES

 OF AUTISM AND ADHD
When I first started working in Special Education 30 years ago I always sought out Personal Accounts of people with autism, as I found it so insightful and helped me understand the children I worked with. Lived experiences allow a valuable and genuine perspective that I find very eye-opening.
There are lots of great ways to access information on lived experiences. Here are some of my suggestions:
1. Youtube
There are many great channels out there. I follow Jessica McCabe who has an amazing channel on ADHD called "How to ADHD".
2. Ted Talks
So many fabulous ones and new ones coming out all the time. The button below brings you to a list 
in order of most viewed so if you are not sure where to start, this is an easy way to find the great ones.
3. Facebook
I follow lots of facebook pages run by Autistic people. I highly recommend you do that as you get daily insights, thoughts, and information. Or just follow my page as I share all the helpful posts.
I have a fabulous online Podcast Community – please join so we can share our resources! I'd love to hear where you get information on lived experiences! 
Person-first language OR Identity-first language?
There is considerable debate around "person-first" language versus "identity-first" language. What this means is should we say "Autistic Person" OR "Person With Autism".
There is no universally accepted preference, so personally I am always guided by the person as to what their preference is. Just ask! However, when in blogs, facebook and podcasts, I try to use a combination to address the range of preferences in my audience.
But if you are wondering, the majority of facebook pages I follow advocate for person-first language i.e. person with autism.
5. Books
For those of you who have my book "The Ultimate Guide to School & Home", I have included some great insights from lived experiences on pages 134 – 137.
Examples of Lived Experiences
Dr. Wenn Lawson
Wenn Lawson is an absolute inspiration. He was labelled "un-teachable" as a child and now he has a PHD.  Wenn is a strong advocate that with the correct supports in place so much can be achieved. One of my favourite sayings of Wenn's is:
"I get there, I just take a little longer than most of you"
I also use one of Wenn's terms all the time – Autism Spectrum is a "Diff-ability" NOT a Dis-ability or Dys-function. Seeing Autism as a different way of thinking and engaging is so important, and much more inclusive.
Listen to Wenn's Top Tips in the podcast!
Dr. Temple Grandin
Many of you will know Temple from the telemovie of her life, her books and Ted Talk. My favourite quotes are
"Different Not Less"
"The most important thing people did for me was to expose me to new things."
It's crucial to create a loving, supportive environment that helps a child grow by exposing them to new things and continually stretching their learning.
 "I cannot emphasize enough the importance of a good teacher."
But I would add Teacher Assistant to that too.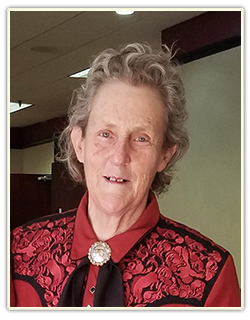 Dean Beadle
Dean Beadle who I interviewed in Podcast Episode 75 and who I have toured New Zealand and Australia with always aims to put autism in a positive light & I love that about Dean. Listen to the podcast for some of his Strategies for Successful Education.