Using Social Scripts to Help Students With Autism Understand Coronavirus
During these stressful and uncertain times, it is

vital

that we

help our students with autism understand coronavirus; what it is and why everything is changing all the time. This is because uncertainty can often result in intense feelings of anxiety for students with autism.

Social scripts are the

key

for helping students with autism to understand events and situations. This is why I love the quote below
"Improvements in behaviour doesn't come from the social script. It comes from improved understanding of events and situations."

The advantage of social scripts is the children can refer back to them many times to boost understanding. Social scripts can also tell students what they can do, by providing alternative situations (e.g. whilst the social script might explain why students are unable to see the grandparents for a while, they can also explain that students are still able to FaceTime them).

This is why I HIGHLY recommend you all use social scripts with the students you know.
How to Create Successful Social Scripts to Help Students with Autism
Use Photos, line drawings, comic strips or even video to support social scripts.
Many students with autism like helping to make the social scripts – this can include selecting photos, typing or writing words, illustrating or laminating the finished book
It is important to use words that aren't too specific such as 'Sometimes,' 'Usually,' 'Often,' or 'Occasionally' – this allows for flexibility
Social scripts are ALWAYS positive. Don't use sentences such as 'I often interrupt,' or 'Sometimes I hit other children.' These sentences don't give information about available alternatives.
Read the social script with the student and check they understand, often it takes a few edits to get the social script perfect.
The key with Social Scripts is they need to be re-read often to reinforce the learning.
Below I created:
 An example of how to create a social script
My own social script to use to help students with autism understand coronavirus
A blank template for you to make your own!
I hope you found those templates and example helpful! Here are some more ideas of social scripts to consider making:
Why I Can't Touch My Friends
Why I Need To Social Distance Myself
Why I Can't Visit Grandparents
Why I Need To Keep Washing My Hands
Remember it is important to include what the child CAN do in the social script. This is important to reduce anxiety and provide the students with alternative solutions
e.g. They can't visit their grandparents but they CAN FaceTime them. They can't play with their friends but they CAN play fortnite together online.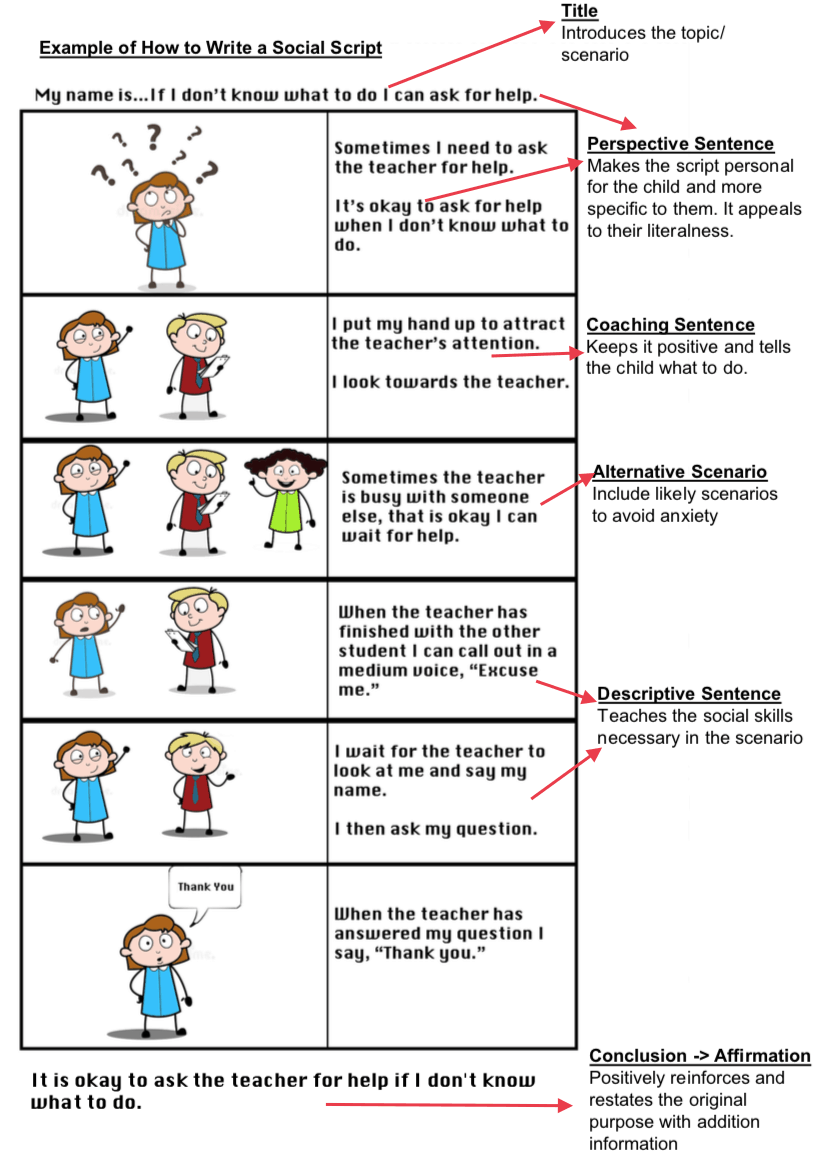 If you want to know more about making social scripts, here is an old podcast to listen to for more tips
Worksheet to Increase Understanding and Reduce Anxiety in Students with Autism
I have created this worksheet as a way to open communication between you and the student with autism. It is a great starter to discuss emotions especially for non-verbal children. I HIGHLY recommend doing this worksheet with the whole family, or class (online or in the classroom!) as it shows students that everyone is feeling different but all feelings are okay.