Teaching Strategies and Behaviour Support Live Virtual Workshop
Register now limited tickets available.
Bonus Posted Welcome Pack for Early Bird Registration
QLD Professional Development Day (all States Welcome)
LIVE Virtual Workshop
Friday 19th January 2024
9am to 3pm AEST (QLD Time)
Understanding Autism Spectrum Disorder
Can't Make This Date?
Sue Larkey On Demand Online Course
- Same Content & Accreditation
- Can Do AnyTime and AnyWhere
Same Content as Face to Face Workshop
Teacher Accredited All States (including NESA Approved PD, TQI, and Australian Professional Standards)
Recording you can re-watch
Covid Safe: no travel, no crowds, no sharing food/facilities
Teaching Strategies for School & Home
• What is Autism Spectrum Disorder
• Autism learning style
• Key teaching strategies from pre-school to secondary
• Classroom strategies
• Promoting understanding in peers
• How to motivate and use special interests
• Visual strategies
• Social skills
• Teaching play
• Strategies for playgrounds
Behaviour Support for School & Home
What are Autism Spectrum behaviours?

Preparing child and staff
Common playground issues
Meltdowns
Anxiety
Transition strategies for school (preschool, primary and secondary) and home
Repetitive and obsessive behaviours
Sensory issues
WHO SHOULD ATTEND & WHAT PAST PARTICIPANTS SAY?
Teachers, Teacher Assistants, Early Childhood Educators, Parents, family members, care staff, educators, clinicians—anyone wanting to understand more about Autism Spectrum Disorder and how to support children and adults.
Accredited Professional Learning (5 hours)
This course is suitable for all teachers Annual Professional Learning Requirements
Australian Professional Standards for Teachers at the level of Proficient Teacher 1.2.2, 1.4.2, 1.5.2, 1.6.2, 2.6.2, 3.3.2, 3.4.2, 4.1.2, 4.3.2, 6.4.2 for the course "Teaching Strategies and Behaviour Support for students with an Autism Spectrum Disorder" presented by Sue Larkey.
For NSW Teachers (5 NESA accreditation PD hours)
Completing Developing Knowledge and Understanding of Autism Spectrum Disorder to Improve Student Learning and Participation will contribute 5 hours of NSW Education Standards Authority (NESA) Accredited PD in the priority area of Students/children with Disability addressing standard descriptors 1.1.2 & 1.6.2 from the Australian Professional Standards for Teachers towards maintaining Proficient Teacher Accreditation in NSW.
​For ACT Teachers 
This course is TQI Accredited
Where and When
Friday 19th January 2024
ZOOM Meeting
8.30 am to 9.00am  – Virtual Check In
9.00am to 3.00pm (Virtual Workshop)
EARLY BIRD (Bonus Posted Workshop Welcome Pack) $205
per person if 3 days before the event
FULL FEE (Digital Downloadable Workshop Pack) $235
per person within 3 days before the event

Teacher PD Accredited Training
Sue Larkey
is a highly qualified special educator who has taught in both mainstream and special schools. She is currently working towards a Doctorate of Education focusing on inclusive schooling. She has authored several books and resource materials. Sue is unashamedly passionate about her mission – to inspire parents and educators and teach them how to Make it a Success. Armed with the tools of understanding and confidence much can be achieved. "To know someone with Autism Spectrum Disorder is not to know Autism Spectrum Disorder", Sue Larkey
Workshop Feedback
"It was all you promised – practical, fast moving, fun and motivational. You have a great understanding of ASD and a true talent for sharing your knowledge and passion in a way we can relate to"
"My son's teacher said it's the best inservice she has ever had! She has had an epiphany! She understands it all so much better. She has some great ideas for the aide! She feels empowered and inspired! This is so great for all her future students too"
"I think perhaps I've just been struggling along trying to find my way not knowing where to start. I felt so well informed when I left the presentation, I learnt so much"
"I spent a lot of the day reflecting on my own teaching practise and came out of the workshop full of what is really just best teaching practise for all children, not just kids on the spectrum. You are a wonderful presenter and are a brilliant advocate for these children"
Online alternative
Can't Make This Workshop? Consider completing Sue Larkey's Accredited Online Course on elearning.suelarkey.com.au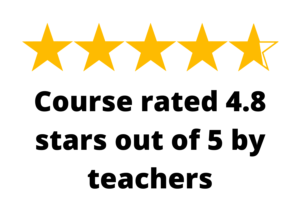 Sue's Online Course is Rated 4.8 Stars out of 5 by Teachers.
COURSE REVIEW
How do you think this course has helped you?
Responses
Respondent ID
Response Date
So many useful strategies to be able to put in place straight away and use
19073996151
Jun 23 2023 03:36 PM
Applying in classroom with more confidence.
19073996212
Jun 23 2023 03:36 PM
New strategies to try with our special friends
19073996110
Jun 23 2023 03:35 PM
It has given a better understanding. My 16 yr old son was just diagnosed with innatentive ADHD and it has been a learning curve.  There's not a lot of resources about how to explain ADHD to others as a teen... any ideas?  Thanks Sue, it was wonderful!
19073996034
Jun 23 2023 03:35 PM

In remaining calm, allowing children the time and space to have a meltdown. Setting each child as their own unique individual.

Thank you very much Sue 😊

19073996014
Jun 23 2023 03:35 PM
I have left with a range of strategies to practice in the classroom and change it up if things are working. More of an understanding of why certain behaviours happen.
19073996095
Jun 23 2023 03:35 PM

I did know most of it already. (Work in the field & uni/training). Need more actual useable strategies. Most things were aimed at level 2 & 3 in special classes/schools (I get it given Sues background). Not particularly relevant. Most kids not that high level.  Appreciate the time & effort.

Also the handout was too visually overwhelming - even for me - NT extrovert!

19073995996
Jun 23 2023 03:35 PM
Given new strategies to try.
19073996002
Jun 23 2023 03:35 PM
Understanding behaviour and how to limit the meltdown
19073995896
Jun 23 2023 03:34 PM
To reflect on all children's behaviour in EYL and how to implement and discuss strategies with colleagues children and parents
19073995918
Jun 23 2023 03:34 PM
Reassurance! Permission to throw out strategies / try new things
19073995983
Jun 23 2023 03:34 PM
It has given me a clearer picture of the differences between Autism and Asperger's. And how to cater for students on the continuum within my classroom.
19073995987
Jun 23 2023 03:34 PM
Gives me a better understanding of the behaviours some of the children I work with present.
19073995885
Jun 23 2023 03:34 PM
Clear insight about what actually works for ASD students and a better understanding of how they see the world
19073995928
Jun 23 2023 03:34 PM
many strategies a lot to report but to my year 2 teachers.
19073995820
Jun 23 2023 03:33 PM
To understand the students more and to try new strategies
19073995722
Jun 23 2023 03:33 PM
To understand my Son better and to be a better teachers aid to child on the spectrum with a broarder outlook.
19073995859
Jun 23 2023 03:33 PM
The course has given me some more understanding  of the children I work with and strategies to help support them better.
19073995834
Jun 23 2023 03:33 PM
Super reassuring, insightful and clear. Simple and clever ideas!!
19073995830
Jun 23 2023 03:33 PM
Reinforce ideas and realised some new strategies to use
19073995775
Jun 23 2023 03:33 PM
Providing practical strategies to try straight away.
19073995771
Jun 23 2023 03:33 PM

I've written nearly 2,000 words on my notes to go back and reflect on areas I can do. This has helped me trial some other strategies and motivate me to be an advocate for neurodiversity ( I have recently been diagnosed with ADHD).

There are so many things I want to share with my team about sensory overload.

Most helpful is all your tips for ODD !

19073995804
Jun 23 2023 03:33 PM
It has helped me understand why my students have meltdowns, and how they feel when it is happening.
19073995761
Jun 23 2023 03:33 PM
Ideas to assist my classroom running smoothly
19073995741
Jun 23 2023 03:33 PM
I help me to better understand my students
19073995743
Jun 23 2023 03:33 PM
I have some new strategies to use with my students. Thanks!
19073995786
Jun 23 2023 03:33 PM
Helped me understand the behaviours in my room
19073995764
Jun 23 2023 03:33 PM
Helped me be more confident in what l do know.
19073995715
Jun 23 2023 03:33 PM

Helped me at support my students more effectively.

Challenged my thinking, which was great.

19073995773
Jun 23 2023 03:33 PM
Help me with lots of statagies to try
19073995821
Jun 23 2023 03:33 PM
Has given me some new strategies to try.
19073995854
Jun 23 2023 03:33 PM
Given me additional tools when working with neurodivergent young people and a better understanding of why they may interact with the world in the way they do. Thank you so much for your information and sharing of knowledge 🙂
19073995716
Jun 23 2023 03:33 PM
Fantastic strategies to support all learners.
19073995826
Jun 23 2023 03:33 PM
By providing me with the understanding of how my students react and what could be going on for them in different situations. It has helped me to be more aware.
19073995855
Jun 23 2023 03:33 PM
Become more of a voice for our kids.
19073995800
Jun 23 2023 03:33 PM
A lot of valuable information and insight to incorporate in both my professional role and personal life.
19073995714
Jun 23 2023 03:33 PM
A better understanding for my son
19073995712
Jun 23 2023 03:33 PM
Yes. I loved it so much.  I'm a parent.  You have been amazing.
19073995627
Jun 23 2023 03:32 PM
Useful strategies!
19073995554
Jun 23 2023 03:32 PM
Understanding Neurodiversity and strategies to use.
19073995673
Jun 23 2023 03:32 PM

Tool and techniques to help my child

Confidence to ask the school what supports she needs

19073995693
Jun 23 2023 03:32 PM
To better understand how our students function and process things. Finding ways to help our students.
19073995661
Jun 23 2023 03:32 PM
This course provided a range of useful and easy to access strategies. Further developing awareness of Autism.
19073995605
Jun 23 2023 03:32 PM
This course has given me so many strategies to use with the autistic children in my class.
19073995626
Jun 23 2023 03:32 PM
Supporting students in the class
19073995541
Jun 23 2023 03:32 PM
Some great strategies
19073995706
Jun 23 2023 03:32 PM
Significantly with behaviour management and how to navigate meltdowns utilising verbal and physical (stepping away, bringing out a chair etc) strategies
19073995616
Jun 23 2023 03:32 PM
Practical tips and advice
19073995521
Jun 23 2023 03:32 PM
Practical strategies to put in the tool box
19073995683
Jun 23 2023 03:32 PM
Practical skills to take into practice. Simple changes that will have a huge impact!
19073995603
Jun 23 2023 03:32 PM
Planning n implementing
19073995685
Jun 23 2023 03:32 PM
Made some things a lot clearer
19073995548
Jun 23 2023 03:32 PM
Lote of new ideas
19073995575
Jun 23 2023 03:32 PM
It will help me in my practise
19073995647
Jun 23 2023 03:32 PM
It has helped me refresh my knowledge of key strategies
19073995515
Jun 23 2023 03:32 PM
Ideas & strategies to try with some specific students
19073995703
Jun 23 2023 03:32 PM
I really think there are things leadership could take home and consider this for teachers as some of the starter's you said not to do....I feel teachers who are in leadership who have been out of the classroom for a long time, forget!
19073995701
Jun 23 2023 03:32 PM
I have more understanding on all areas, but really found depressive meltdowns interesting. Thank you! Brilliant course!
19073995639
Jun 23 2023 03:32 PM
I have more strategies in assisting the child with independence and how to manage meltdowns
19073995631
Jun 23 2023 03:32 PM
I have got strategies, help for establishing visual aids and a better understanding of neurodiversity
19073995614
Jun 23 2023 03:32 PM
Have new strategies to try
19073995581
Jun 23 2023 03:32 PM
Great! Fantastic for helping with strategies in my class
19073995538
Jun 23 2023 03:32 PM
Giving me a greater understanding on ASD and reminding me of my role and how to help them.
19073995519
Jun 23 2023 03:32 PM
Gave me insight I've never had before and how to better support neurodiverse students but also neurotypical students.
19073995640
Jun 23 2023 03:32 PM

Filled in a lot of gaps

I would really like a digital copy of the notes if possible

19073995700
Jun 23 2023 03:32 PM
Dealing with ASD students in PE lessons
19073995591
Jun 23 2023 03:32 PM
Consolidated pre-existing learning and knowledge and just wonderful to see you face to face!
19073995675
Jun 23 2023 03:32 PM
Better understanding and has helped me understand students I have worked with previously
19073995652
Jun 23 2023 03:32 PM
Better knowledge and to share with others
19073995594
Jun 23 2023 03:32 PM
Already knew alot that was shared
19073995663
Jun 23 2023 03:32 PM
A lot more strategies to help support my ASD learners. As a second year teacher, I have felt quite lost in this area and unsupported by my school at times. Thank you very much for these strategies and sharing your knowledge!
19073995565
Jun 23 2023 03:32 PM
having a child waiting to be diagnosed and giving me more helpful tools also being a sso in a secondary setting this will go so far with helping these students
19073995448
Jun 23 2023 03:31 PM
Yes, lots of good suggestions that are practical and useful information
19073995480
Jun 23 2023 03:31 PM
Will let you know! 😍
19073995389
Jun 23 2023 03:31 PM
Understanding my students behaviour and how I can interact better with them.
19073995460
Jun 23 2023 03:31 PM
The GPS strategy, 100%
19073995471
Jun 23 2023 03:31 PM
Small changes for big impact
19073995381
Jun 23 2023 03:31 PM
Provided a range of strategies to try.
19073995441
Jun 23 2023 03:31 PM
More knowledgeable now
19073995458
Jun 23 2023 03:31 PM

Lots of very good and useful information

It would have been good to have had tables to work from today easier to take notes when there is a desk/table provided

19073995424
Jun 23 2023 03:31 PM
It's a good refresher and reminder of strategies and things to try! I always take something new away with me.
19073995451
Jun 23 2023 03:31 PM
Increased understanding and awareness. Some strategies to take away and use.
19073995502
Jun 23 2023 03:31 PM
I got a greater understanding and many strategies to try
19073995489
Jun 23 2023 03:31 PM
Given me so many strategies to try out and key signs to look for
19073995383
Jun 23 2023 03:31 PM
Given lots of great strategies to use
19073995407
Jun 23 2023 03:31 PM
Better understanding
19073995465
Jun 23 2023 03:31 PM
Being new to working with children with ASD this course has been invaluable
19073995457
Jun 23 2023 03:31 PM
A reminder on how to view and support children
19073995490
Jun 23 2023 03:31 PM
A far greater understanding of how to engage students with ASD within my practice
19073995410
Jun 23 2023 03:31 PM
Greatly increased my awareness of how autism can present differently in a variety of children.
19073995349
Jun 23 2023 03:30 PM
I now have a better understanding about how I can deal with challenging behaviours that children with neurodiversity display.
19073995037
Jun 23 2023 03:28 PM
Greater understanding and practical ideas
19071733640
Jun 16 2023 03:26 PM
It helped understanding behaviours. So many strategies to try.
19071730203
Jun 16 2023 03:02 PM
Massively - in both roles that I've done over the years: thinking about when I was teaching and had very difficult students who had oppositional behaviours and what I could've done; and now as a TA supporting autistic children who are mainstreamed. Also how relevant a lot of what you said was and how it can be applied to secondary students who are considered 'neuro typical'
19071730039
Jun 16 2023 03:01 PM

Making me feel good about what I already do.

Giving me heaps of new strategies to try.

YOU'RE THE BEST!

19071729600
Jun 16 2023 02:58 PM
It helped in variable ways although some parts are more relevant to older age (as I teach in early childhood). Will still use some of the techniques for the younger children. Hopefully it will help. Thank you Sue.
19071729581
Jun 16 2023 02:58 PM
good overview
19071729351
Jun 16 2023 02:57 PM
I'm special Ed trained and work in a support unit with non-verbal students with autism. It's good to be reminded of practical strategies… particularly when you guide us to reflect on what will happen to us if… very powerful to reflect from our own perspective.
19071729370
Jun 16 2023 02:57 PM
It gave me a more greater understanding and resources including myself and knowing I'm doing the best job for my little kids. I have the best job in the world!!
19071729445
Jun 16 2023 02:57 PM
Given me more strategies.
19071729409
Jun 16 2023 02:57 PM
 5-minute visual timer and finish with redirection to where they are to go and giving them a fidget.
19071729484
Jun 16 2023 02:57 PM
Summary profile of student page is such a good idea - I have the asthmatic student but this page is just as important. I am more aware of concise achievable rewards. I now know ASD students are adult learners so that helps greatly.
19071729258
Jun 16 2023 02:56 PM
Understand and support students with more success
19071729082
Jun 16 2023 02:55 PM
Reminded me things I had forgotten
19071729103
Jun 16 2023 02:55 PM
Given some interesting strategies for meltdown behaviours
19071729080
Jun 16 2023 02:55 PM
Very informative, great strategies.
19071728975
Jun 16 2023 02:54 PM
Strategies to implement at the service
19071728894
Jun 16 2023 02:54 PM
Refresh my strategies, I'm on the right track, I'm not alone in my difficulties and struggles
19071728877
Jun 16 2023 02:54 PM
Provided some techniques to use with my child.
19071728904
Jun 16 2023 02:54 PM

Practical strategies for classroom.

Indicators prior to meltdowns.

19071728931
Jun 16 2023 02:54 PM
Not to see things through my eyes but to try to see through their eyes
19071728892
Jun 16 2023 02:54 PM
New strategies to try in the classroom.
19071728876
Jun 16 2023 02:54 PM
More ideas and understanding of ASD
19071728952
Jun 16 2023 02:54 PM
More education for me
19071728986
Jun 16 2023 02:54 PM
I've got more strategies up my sleeve now 😊👍
19071728900
Jun 16 2023 02:54 PM
It's solidified that I'm doing the right things but there are a few things I could do to hopefully get better outcomes. Eg I've been using a visual timetable but haven't been highlighting what comes after, I've just been saying 'when the timer goes off the iPad goes away" instead of saying when the timer stops we will go to pe.
19071728950
Jun 16 2023 02:54 PM
It has given me some new strategies but as a high school ESO I never know who I'm working with and when so it's hard to plan ahead
19071729044
Jun 16 2023 02:54 PM
It has been reassuring for strategies I have implemented, it has provided understanding to to behaviours that I didn't understand i.e verbal output to cancel out the sensory noise input. the teaching circles green, orange and red.
19071728979
Jun 16 2023 02:54 PM
It gives me tools to work with my new student
19071729045
Jun 16 2023 02:54 PM
Invaluable. So many practical examples to trial.
19071728882
Jun 16 2023 02:54 PM

I think that the course has come at a great time in my career where I needed to reevaluate strategies I'm using and bring back strategies I've used.

It has also given me some new ideas and strategies to implement

19071728922
Jun 16 2023 02:54 PM
I have more knowledge to share with my classroom. I am excited to implement the strategies I have written down.
19071728943
Jun 16 2023 02:54 PM
I am an OT, but quite often called upon to unskill staff/ family.
19071728966
Jun 16 2023 02:54 PM
Helped me gain more insight in ASD in preparation for more ESO responsibilities I have coming from next week onwards
19071728867
Jun 16 2023 02:54 PM
Good refresher as it has been a long time since first completed.
19071728885
Jun 16 2023 02:54 PM
Giving me more insight into Autism and to choose my battles
19071728869
Jun 16 2023 02:54 PM
Given me a bigger ideas on helping children
19071728918
Jun 16 2023 02:54 PM
Get some strategies
19071729001
Jun 16 2023 02:54 PM
Gave me time to think about the approaches I have been using and has given me more strategies in my bag.  Also good to think about undiagnosed children who are displaying behaviours and how we can look at these further.
19071728919
Jun 16 2023 02:54 PM

Gained new knowledge.

Now I need to practice.

19071728890
Jun 16 2023 02:54 PM
A reminder of strategies and introduction of more. Confidence to speak out.
19071729014
Jun 16 2023 02:54 PM
A lot of information but I learned so much and keen to use it in the classroom.
19071729015
Jun 16 2023 02:54 PM
listening to sue has made me aware that i am doing all the right things,working hard,and i love my job.
19071728810
Jun 16 2023 02:53 PM
absolutely, so much. Nice to know I'm doing some things right
19071728823
Jun 16 2023 02:53 PM
Yes, definitely
19071728725
Jun 16 2023 02:53 PM
This course has developed my understanding  of different strategies to use when working with students diagnosed with autism. I have a couple of things I want to try out ! 🙂
19071728765
Jun 16 2023 02:53 PM
Re affirmed what I had learnt in previous courses.
19071728714
Jun 16 2023 02:53 PM
Provided lots of strategies and great book recommendations.
19071728790
Jun 16 2023 02:53 PM
Provided a variety of strategies. I feel like I have a new perspective on teaching students with ASD and ODD. As a graduate teacher, the course was reassuring and provided useful strategies to implement into the classroom.
19071728759
Jun 16 2023 02:53 PM
Practical strategies to 'try'…keep being curious and trying to find new things that work. Compassion for my students
19071728830
Jun 16 2023 02:53 PM
Much more awareness of how to work with these students and families as a school.
19071728717
Jun 16 2023 02:53 PM
More strategies to try.
19071728770
Jun 16 2023 02:53 PM
More ideas and strategies to try!
19071728730
Jun 16 2023 02:53 PM
Lots of information, lots of strategies, amazing presenter! Loved it 😍
19071728813
Jun 16 2023 02:53 PM
Loaded with great tips for me as a mum and as a teacher - going to implement as much as possible
19071728786
Jun 16 2023 02:53 PM
It was great and help 🙏🥰🙏🥰❤️
19071728840
Jun 16 2023 02:53 PM
It has provided me strategies to take away and adapt to my working environment. Thankyou
19071728764
Jun 16 2023 02:53 PM
Invaluable thanks so much Sue
19071728752
Jun 16 2023 02:53 PM
I have such a better understanding of behaviours and strategies. Was good to be able to relate some of my students with behaviours and strategies!
19071728850
Jun 16 2023 02:53 PM
I have so many strategies to try both at work and at home!
19071728737
Jun 16 2023 02:53 PM
I feel a lot more prepared to begin next term. Thank you.
19071728733
Jun 16 2023 02:53 PM
Gave me lots of strategies, tips and tools to take away that I can keep and refer to.
19071728774
Jun 16 2023 02:53 PM
Confidence to help support my students better and talking with parents & colleagues
19071728782
Jun 16 2023 02:53 PM
Better understandings so I'm feeling more confident about working with these children
19071728775
Jun 16 2023 02:53 PM
Been provided with lots of new strategies to try 🙂 Thank you!!
19071728741
Jun 16 2023 02:53 PM
reinforced a lot of what I am doing and provided some new strategies to try
19071728564
Jun 16 2023 02:52 PM
more strategies to try and understay why i am seeing certain things
19071728567
Jun 16 2023 02:52 PM
given me real life strategies
19071728532
Jun 16 2023 02:52 PM
a lot of practical strategies to try, it is fantastic
19071728655
Jun 16 2023 02:52 PM
Watching the videos was beneficial - include more
19071728660
Jun 16 2023 02:52 PM
Understanding from the students perspective and also relating the expectations I put on students to my own things such as having to tidy their area feeling overwhelming when I also feel that way when things are messy
19071728648
Jun 16 2023 02:52 PM
Strategies as I am feeling burnt out with so many behaviours at once
19071728541
Jun 16 2023 02:52 PM
New ways or helping the children
19071728515
Jun 16 2023 02:52 PM
Networking and increased understanding of student needs
19071728588
Jun 16 2023 02:52 PM
More strategies to use.
19071728547
Jun 16 2023 02:52 PM
More practical strategies
19071728534
Jun 16 2023 02:52 PM

Map out a profile sheet

Many thanks to Andrew for the email support 👍🙂

19071728572
Jun 16 2023 02:52 PM
Many tools to add to the tool box and explain to staff.
19071728505
Jun 16 2023 02:52 PM
Made me more aware of why certain behaviours occur
19071728556
Jun 16 2023 02:52 PM
Lots of thinking. Can't wait for next term to bring them into the classroom.
19071728508
Jun 16 2023 02:52 PM
Loads of strategies, love them. Thank you for being specific and not withholding your knowledge.
19071728695
Jun 16 2023 02:52 PM
I'm exhausted. I want to try everything possible and to learn what is best for each individual child.
19071728654
Jun 16 2023 02:52 PM
It has helped me to understand asd as its my first time working with a child with asd.
19071728643
Jun 16 2023 02:52 PM
It has given me some more strategies to try in my classroom and to share with my colleagues to support them with students in their classes
19071728708
Jun 16 2023 02:52 PM
Increased understanding of my children
19071728565
Jun 16 2023 02:52 PM
Immensely!!
19071728550
Jun 16 2023 02:52 PM
I have learned so many strategies that I am going to try with students in my classroom.
19071728690
Jun 16 2023 02:52 PM
I am starting on an ASD CLASS next term and I'm sure ALL of it will help.
19071728589
Jun 16 2023 02:52 PM
Helped me understand how to cope with my students who have meltdowns.
19071728615
Jun 16 2023 02:52 PM
Help me be a better teacher!!! Understand student behaviour and recognise/prevent lash ours etc
19071728668
Jun 16 2023 02:52 PM
Gave me more strategies to utilise day to day and prolong engagement
19071728662
Jun 16 2023 02:52 PM
Confirmed a lot of strategies and methods I'm already using and given me lots of good ideas to try. 😊
19071728526
Jun 16 2023 02:52 PM
Better understanding of the difference between sensory and behaviour meltdowns
19071728626
Jun 16 2023 02:52 PM
Be more aware of different aspects of neurodiversity
19071728693
Jun 16 2023 02:52 PM
Absolutely! Lots of new strategies to try
19071728599
Jun 16 2023 02:52 PM
To deal with challenging situations
19071728439
Jun 16 2023 02:51 PM
Professional update…always learning.
19071728495
Jun 16 2023 02:51 PM
In my teaching practice
19071728472
Jun 16 2023 02:51 PM
In every way!
19071728500
Jun 16 2023 02:51 PM
I have gained more understanding of autism/odd etc in general. I have learnt the difference between meltdowns and tantrums. I have learnt more effective ways to communicate.
19071728468
Jun 16 2023 02:51 PM
I am an educator and a mother of an adhd son who is now an adult and I wish I had done this 15 years ago
19071728450
Jun 16 2023 02:51 PM
It allows me to have different strategies for my students
19071727865
Jun 16 2023 02:48 PM
Reinforcing my knowledge from experiences
19071727816
Jun 16 2023 02:47 PM
Provided new ideas and strategies to try - thankyou so much for your valuable knowledge and sharing - thoroughly enjoyed the day and look fwd to reaching out to some of those resources.
19071727724
Jun 16 2023 02:47 PM
Strategies
19071727368
Jun 16 2023 02:44 PM
It's given me some amazing practical strategies to help with kindy meltdowns. An amazing workshop! Loved it!
19071727269
Jun 16 2023 02:44 PM
Immensely,  so many tools to use and apply. Thank you so much
19071727322
Jun 16 2023 02:44 PM
Try new strategies with the children
19071688788
Jun 16 2023 11:09 AM
Higher level of confidence that I will be able to foster better outcomes for all students both the neurotypical and the neurodiverse
19069386786
Jun 09 2023 03:03 PM
Understand triggers and manage them
19069386656
Jun 09 2023 03:02 PM
In all aspects of supporting our students
19069386552
Jun 09 2023 03:02 PM
Reminded me of some ideas from previous SL courses.
19069386224
Jun 09 2023 03:00 PM
Refreshed, reminded of known strategies,  and picked up a few more hints and tips. Love the practicality of your workshops.
19069386168
Jun 09 2023 03:00 PM
In every way as a mum and teacher
19069386219
Jun 09 2023 03:00 PM
Confirmation of strategies
19069386210
Jun 09 2023 03:00 PM
Better understanding and strategies
19069386197
Jun 09 2023 03:00 PM
Understand sensory meltdown vs behaviour meltdown vs tantrum
19069386051
Jun 09 2023 02:59 PM
Strategies!
19069386109
Jun 09 2023 02:59 PM
Strategies to assist within the school setting.
19069386101
Jun 09 2023 02:59 PM
Refresher
19069386008
Jun 09 2023 02:59 PM
It has helped me re-evaluate my strategies in the classroom.
19069386024
Jun 09 2023 02:59 PM
It has help me to be more informed about how best to help my students
19069386048
Jun 09 2023 02:59 PM
I just like to refresh and remind myself of options as get in a rut but child keeps changing/elvoving
19069386142
Jun 09 2023 02:59 PM
I have some new strategies and increased confidence to use a loving push
19069386061
Jun 09 2023 02:59 PM
I had time to sit and reflect on the students in my care with a different lense
19069386053
Jun 09 2023 02:59 PM
Gaining knowledge on how these students might feel and taking that into consideration when communicating with them.
19069386152
Jun 09 2023 02:59 PM
Everyday with students
19069386057
Jun 09 2023 02:59 PM
Consider how my words / actions affect others. Considerations I can make for neurodiverse students.
19069386088
Jun 09 2023 02:59 PM
Better understanding, affirmation of things I'm doing right, other strategies to try
19069386058
Jun 09 2023 02:59 PM
Best practice to use strategies to support my students
19069386141
Jun 09 2023 02:59 PM
Be more informed on the life of the asd child
19069386000
Jun 09 2023 02:59 PM
Yes I now have a better understanding of neurone diversity
19069385864
Jun 09 2023 02:58 PM
Yes
19069385972
Jun 09 2023 02:58 PM
Understanding and practical strategies
19069385861
Jun 09 2023 02:58 PM
Understand the kids in my class with autism and how I can help them to function in my classroom.
19069385948
Jun 09 2023 02:58 PM
To I understand the difference between tantrums and meltdowns.
19069385907
Jun 09 2023 02:58 PM
Reminder of what I do know and direction for what I still need to learn!
19069385867
Jun 09 2023 02:58 PM
Lots of helpful information to take back to school and talk to others about.
19069385851
Jun 09 2023 02:58 PM
It's helped understand my son a little more
19069385872
Jun 09 2023 02:58 PM
It's given me a much better perspective on how an autistic child sees the world.
19069385835
Jun 09 2023 02:58 PM
Increased understanding and new ideas for strategies
19069385883
Jun 09 2023 02:58 PM
I have strategies to use at school
19069385838
Jun 09 2023 02:58 PM
I have strategies to try in my classroom
19069385922
Jun 09 2023 02:58 PM
Giving knowledge and more in-depth understanding on the nureodivergent community
19069385819
Jun 09 2023 02:58 PM
Given me ideas to use in my classroom
19069385897
Jun 09 2023 02:58 PM
By reminding me of the things I should be doing.
19069385868
Jun 09 2023 02:58 PM
Absolutely I am excited to try the strategies I learnt
19069385891
Jun 09 2023 02:58 PM
A range of new strategies to try in my classroom
19069385880
Jun 09 2023 02:58 PM
Yes
19069385780
Jun 09 2023 02:57 PM
So many strategies to implement for not only children on the spectrum but all
19069385766
Jun 09 2023 02:57 PM
So many strategies that I can use
19069385807
Jun 09 2023 02:57 PM
I would like more information on how to transition students back into the classroom after melt downs. Or with defiant behaviours like not coming back from the playground, or running away and laughing.
19069385808
Jun 09 2023 02:57 PM
I understand both my students and son and have new ways and thoughts on how to change myself to help them
19069385785
Jun 09 2023 02:57 PM
I have a better understanding to help my parents seeking support
19069385743
Jun 09 2023 02:57 PM
A lot - lots of great info for home life and for school, got to ask sue specific questions and it's helped a lot, thank you!
19069385762
Jun 09 2023 02:57 PM
Helped me identify strategies to use and utilise for aides in my class with ASD Learners
19069384596
Jun 09 2023 02:49 PM
reminds me to focus the reasons for their behaviour. so I can work on for their better outcomes.
19069031684
Jun 08 2023 04:52 PM
Helped to confirm we are working in the right direction for our students
19069012770
Jun 08 2023 03:02 PM
Working with several ASD children all information was extremely valuable. Able to relate different items to the different children.
19069012574
Jun 08 2023 03:01 PM
Refreshing the basic skills and reasoning about the practice
19069012547
Jun 08 2023 03:01 PM
Reconsider how I communicate with my students and clear directions to assist them
19069012608
Jun 08 2023 03:01 PM
More things for the classroom
19069012573
Jun 08 2023 03:01 PM
Have many new ideas strategies and feel more equiped to handle my children
19069012597
Jun 08 2023 03:01 PM
Gain more understanding of how to identify and work around the different stages of meltdown.
19069012595
Jun 08 2023 03:01 PM
Will help in classroom to support students.  Also identify ways to assist students at lunch time.
19069012416
Jun 08 2023 03:00 PM
Understand and tips
19069012442
Jun 08 2023 03:00 PM
Revising strategies
19069012382
Jun 08 2023 03:00 PM
Re-thinking how to support a child at school
19069012526
Jun 08 2023 03:00 PM
Provided clarity, confirmed or identified things I do but didn't realise.
19069012433
Jun 08 2023 03:00 PM
More understanding.
19069012400
Jun 08 2023 03:00 PM
Lots of strategies to use, reminded me of things to do, gave me a toolbox of new things to try at home and at work.
19069012481
Jun 08 2023 03:00 PM
It's reinforced information I've learnt previous seminars.
19069012510
Jun 08 2023 03:00 PM
It has reinforced much that I knew and has been invaluable in giving me new insights.
19069012388
Jun 08 2023 03:00 PM
Deeper understanding of how to assist children with asd
19069012483
Jun 08 2023 03:00 PM
Working as a teacher of learning n diversity understanding behaviour and how to manage.
19069012273
Jun 08 2023 02:59 PM
Very practical tools that can be used straight away. Knowledge and insight to how neurodiverse children work
19069012225
Jun 08 2023 02:59 PM
Very insightful
19069012222
Jun 08 2023 02:59 PM
Understanding the difference in neurotypical and children on the spectrum, and the strategies
19069012338
Jun 08 2023 02:59 PM
Understanding how to communicate and engage with the kids and how they think
19069012362
Jun 08 2023 02:59 PM
Strategies
19069012295
Jun 08 2023 02:59 PM
So many great ideas to try out.
19069012286
Jun 08 2023 02:59 PM
Lots of strategies to help with my son
19069012258
Jun 08 2023 02:59 PM
Interesting training and I have taken away some good points I would however like to see more question and answer time in this training
19069012287
Jun 08 2023 02:59 PM
In many ways understanding different children
19069012280
Jun 08 2023 02:59 PM
I have three key students in my class and all the information has been so valuable to use in my class
19069012346
Jun 08 2023 02:59 PM
HOW TO RECOGNISE THE SPECTRUM & HOW TO DEAL WITH IT.
19069012247
Jun 08 2023 02:59 PM
Gives me strategies
19069012354
Jun 08 2023 02:59 PM
Given many practical strategies
19069012252
Jun 08 2023 02:59 PM
General classroom management as well as tips with ASD kids
19069012268
Jun 08 2023 02:59 PM
Extremely as there are options for me to try with my student that I work with
19069012358
Jun 08 2023 02:59 PM
Confirmed direction to move resistant parent towards diagnosis.
19069012236
Jun 08 2023 02:59 PM
To better understand some young people that may not be diagnosed yet, but may have some of the behaviour conversed in the conference
19069012075
Jun 08 2023 02:58 PM
Strategies for classroom, understanding behaviours and reasons why
19069012199
Jun 08 2023 02:58 PM
Lots of strategies taken away
19069012186
Jun 08 2023 02:58 PM
Immensely
19069012160
Jun 08 2023 02:58 PM
Identification and strategies to implement ir try
19069012161
Jun 08 2023 02:58 PM
Definitely has helped my understanding of kids with neurodiversity and my own son who has ADHD
19069012198
Jun 08 2023 02:58 PM
Built my self knowledge of reading behaviours, individual learning needs and triggers
19069012177
Jun 08 2023 02:58 PM
Better understanding of neurodiversity
19069012170
Jun 08 2023 02:58 PM
Reaffirming you're not the only one. And that things don't always work
19069012061
Jun 08 2023 02:57 PM
More practical understanding of strategies to support diverse students
19067360669
Jun 03 2023 12:12 PM
Reinforced and added to strategies to use everyday not just for neurodiverse children but all children.
19067063308
Jun 02 2023 04:15 PM
So many practical tips to try. Very worthwhile.
19067053081
Jun 02 2023 03:06 PM
Revised Autism, strategies for classroom and strategies for my child counselling position.
19067052875
Jun 02 2023 03:05 PM

Recent and more up to date information

Being reminded that strategies I have already employed and my own knowledge is a valuable tool with working with children

19067052819
Jun 02 2023 03:05 PM

How to recognise the difference between meltdown and tantrum

Say their name at the beginning of sentence

The more something is routine the less it is a demand

19067052754
Jun 02 2023 03:04 PM
Has given me more awareness of children with ASD
19067052676
Jun 02 2023 03:04 PM
Definitely put these conditions in more perspective to understand.
19067052652
Jun 02 2023 03:04 PM
Better understanding of sensory needs and ways to support students with sensory issues
19067052744
Jun 02 2023 03:04 PM
Yes.
19067052489
Jun 02 2023 03:03 PM

To learn so many new strategies to try with not just 1 but many of my students.

Thankyou so much for sharing your knowledge.

19067052478
Jun 02 2023 03:03 PM
Strategies for my classroom and clarification of what I'm doing well
19067052498
Jun 02 2023 03:03 PM
Reiterated things I'm doing, both well and need work. Good, new strategies.
19067052573
Jun 02 2023 03:03 PM
Reboot some know ideas and strategies plus added some more to the tool box … Thankyou 😊
19067052603
Jun 02 2023 03:03 PM

Reassuring that I am doing well.

Useful ideas

19067052473
Jun 02 2023 03:03 PM
Practical tips for understanding what's going on in students head
19067052588
Jun 02 2023 03:03 PM
Opened my eyes when it comes to children and their behaviours
19067052540
Jun 02 2023 03:03 PM
More ideas to use with high needs autism children
19067052461
Jun 02 2023 03:03 PM

It helped me feel good about myself and I am doing a good job as a SLSO and a mum to a boy with ASD.

BEC WILKINSON  TAMWORTH

19067052505
Jun 02 2023 03:03 PM
It has given me a greater understanding of those children with spectrum difficulties. Thank you!
19067052534
Jun 02 2023 03:03 PM
It has given me a better understanding strategies and behaviours of Autism and other
19067052512
Jun 02 2023 03:03 PM
Ideas and strategies
19067052484
Jun 02 2023 03:03 PM
Helping to understand the needs of children and effective strategies to support
19067052572
Jun 02 2023 03:03 PM
Great tools to use sensory toys etc. ways to understand, anticipate and avoid meltdowns.
19067052591
Jun 02 2023 03:03 PM
Giving more strategies as well as reaffirming I'm doing the right thing.
19067052479
Jun 02 2023 03:03 PM
Given me a greater understanding and strangers for behaviour management and support
19067052599
Jun 02 2023 03:03 PM
Develop my understanding of our children's rights and challenges
19067052521
Jun 02 2023 03:03 PM
All invaluable, useful strategies that I can implement on Monday. Thanks.
19067052480
Jun 02 2023 03:03 PM
Yes
19067052308
Jun 02 2023 03:02 PM
With my children at school it has helped or encouraged me with this course.
19067052403
Jun 02 2023 03:02 PM
Understanding of behaviours.
19067052398
Jun 02 2023 03:02 PM
Understanding lots of different behaviours and what could help with them
19067052382
Jun 02 2023 03:02 PM
Understanding behaviours
19067052424
Jun 02 2023 03:02 PM
To understand ADHD and behaviour triggers
19067052397
Jun 02 2023 03:02 PM
To help children regulate their emotions, know the difference between types of melt downs
19067052351
Jun 02 2023 03:02 PM
This course has made me more aware of neurodiversity
19067052390
Jun 02 2023 03:02 PM
This course has helped me so much as an educator and I am excited to go back and implement strategies with the children
19067052363
Jun 02 2023 03:02 PM
Strategies to try with students
19067052416
Jun 02 2023 03:02 PM
Strategies and reinforcing we are doing the best for our children
19067052304
Jun 02 2023 03:02 PM
So much, reaffirmed some good things I'm already doing and then gave me new ideas to help.
19067052415
Jun 02 2023 03:02 PM
Reminded me to pick my battles and expect progess not perfection ☺️
19067052353
Jun 02 2023 03:02 PM
Relevant strategies to use
19067052319
Jun 02 2023 03:02 PM
Practical strategies
19067052337
Jun 02 2023 03:02 PM

Opened my eyes more.. more understanding

Tamworth Course

19067052349
Jun 02 2023 03:02 PM
Lots of information that we can use immediately, will be using strategies on Monday!
19067052430
Jun 02 2023 03:02 PM
Knowledge on different types of meltdowns and causes for them
19067052380
Jun 02 2023 03:02 PM

I've been able to relate it to scenarios at school.

Thinking differently about how to do things but also reassurance that most things we are doing are on track

19067052383
Jun 02 2023 03:02 PM
It will improve the way I teach and support my kids to be the best that they can be.
19067052367
Jun 02 2023 03:02 PM
It has made me more aware of the strategies I can use within my classroom and at home.
19067052381
Jun 02 2023 03:02 PM
I have strategies to put in place as well as other things to look for in all students
19067052346
Jun 02 2023 03:02 PM
I have so many more strategies to use, really looking forward to using it all
19067052312
Jun 02 2023 03:02 PM
I have read about ASD. This has helped bring it together
19067052455
Jun 02 2023 03:02 PM
I have learnt I new to try different materials and communicate better with staff.
19067052361
Jun 02 2023 03:02 PM
Helped refreshed my knowledge and understanding as well as gain more understanding
19067052305
Jun 02 2023 03:02 PM
Has given me strategies to take back to my centre
19067052329
Jun 02 2023 03:02 PM
Great! So helpful, lots to try and see what works.
19067052292
Jun 02 2023 03:02 PM
Giving me tools to incorporate in to our teaching practice and how to create goals for children.
19067052391
Jun 02 2023 03:02 PM
Given more practical information, strategies and tips on what can be used in the preschool and at home.
19067052297
Jun 02 2023 03:02 PM
Given me more tools to use in class
19067052313
Jun 02 2023 03:02 PM
Given me lots of tools to use when assisting kids with adhd and autism
19067052350
Jun 02 2023 03:02 PM
Given me lots of ideas to handle some difficult children
19067052414
Jun 02 2023 03:02 PM
Gave me more of an understanding of autism & ADHD
19067052406
Jun 02 2023 03:02 PM
As a trainee, I think it will help me to better understand the preschoolers where I work.
19067052410
Jun 02 2023 03:02 PM
All of it
19067052428
Jun 02 2023 03:02 PM
A lot of help with greater understanding meltdowns and tantrums
19067052326
Jun 02 2023 03:02 PM
Yes definitely
19067052250
Jun 02 2023 03:01 PM
Will use what I have learnt to support the classroom teacher.
19067052170
Jun 02 2023 03:01 PM
Very much thankyou
19067052178
Jun 02 2023 03:01 PM
Understand autism more
19067052199
Jun 02 2023 03:01 PM
Understand asd better
19067052273
Jun 02 2023 03:01 PM
Reinforced known strategies
19067052256
Jun 02 2023 03:01 PM
New strategies
19067052271
Jun 02 2023 03:01 PM
Immensely, I just hope that staff will listen to new strategies
19067052254
Jun 02 2023 03:01 PM
I have now more understanding of Autism
19067052134
Jun 02 2023 03:01 PM
Helped give me strategies and ideas to help within the early childhood environment
19067052182
Jun 02 2023 03:01 PM
Given me a better understanding of those with ASD, ADHD, etc
19067052237
Jun 02 2023 03:01 PM
Give me strategies and toys to implement
19067052216
Jun 02 2023 03:01 PM
Confirmed we're doing the right thing
19067052241
Jun 02 2023 03:01 PM
Absolutely!!!!!
19067052198
Jun 02 2023 03:01 PM
With understanding neurodiversity
19067052106
Jun 02 2023 03:00 PM
Making it a success
19067052018
Jun 02 2023 03:00 PM
Better understanding of how to support students with autism
19065407607
May 28 2023 07:46 PM
It has helped me understand the style of instruction and support I need to provide to my neuro diverse learners.
19064845976
May 26 2023 03:05 PM
It has given me a lot more perspective and tools to implement within the classroom for ALL students, not just the neurodiverse. THANKYOU!! 🙂
19064845100
May 26 2023 02:59 PM
More understanding.
19064844769
May 26 2023 02:56 PM
It has given a better insight and understanding of my students. Good strategies to support the class
19064844725
May 26 2023 02:56 PM
A better understanding of supporting neurodiverse students
19064844696
May 26 2023 02:56 PM
Reaffirmed some strategies already used.  Understanding meltdown vs tantrum.
19064844583
May 26 2023 02:55 PM
Presenter provided many strategies to support students with Autism
19064844665
May 26 2023 02:55 PM
New to K-1 autism class as the classroom teacher. All information has helped!
19064844560
May 26 2023 02:55 PM
It's given me some tips and tricks to use in my classroom.
19064844633
May 26 2023 02:55 PM
Information is power , I will be able to better support both my students and teachers in our school community with knowledge and strategies . Thankyou so much
19064844604
May 26 2023 02:55 PM
In every way to help my students
19064844615
May 26 2023 02:55 PM
I am more empathetic to supporting my neurodiversity students.
19064844634
May 26 2023 02:55 PM
Strategies and facts on neurodiverse
19064844554
May 26 2023 02:54 PM
Some more strategies for the toolbox.
19064844430
May 26 2023 02:54 PM
Really informative
19064844418
May 26 2023 02:54 PM
Practical strategies and understanding students
19064844493
May 26 2023 02:54 PM
It has given me more tools to use with my students
19064844513
May 26 2023 02:54 PM
Greatly! Will improve the way I support students in the school environment.
19064844449
May 26 2023 02:54 PM
Given me strategies and ideas
19064844494
May 26 2023 02:54 PM
Gave me strategies to use.
19064844462
May 26 2023 02:54 PM
For my son who has autism
19064844434
May 26 2023 02:54 PM
Better understanding gof how to help the children I work with
19064844533
May 26 2023 02:54 PM
As a first year teacher, identifying students with ASD and differentiating it from behaviour
19064844505
May 26 2023 02:54 PM

Strategies to communicate with a non verbal child

Strategies to include him in the classroom and keep him settled

19064844399
May 26 2023 02:53 PM
Communicate back to staff
19064844346
May 26 2023 02:53 PM
Given me so many ideas to take back and incorporate into our classroom
19064844059
May 26 2023 02:51 PM
This course has given my many strategies to try in the classroom
19064843854
May 26 2023 02:49 PM
To have more than one strategy when working with neurodiverse students and understand that what works today may not work tomorrow and that's ok
19064777419
May 26 2023 08:46 AM

New strategies to try for the teachers, my aides/angels and myself as a learning support teacher.

Recognising the difference between sensory and behaviour meltdowns or tantrums.

19064474716
May 25 2023 03:18 PM

Attending this course has been a goal of mine for a number of years. My situation has allowed this goal to be realised this year & I have not been disappointed.

This course will help me with a range of students as well as support other teachers who teach children- especially NST. I now have a number of strategies to try and share. I also feel more empowered when working with & supporting parents. I have one parent who I will be sending information to directly regarding the podcasts in particular.

I also cannot wait to read the resources that I have purchased in light of hearing Sue talk. I think I will hear Sues' voice as I'm reading & that is a wonderful gift! Thank you Sue, I'm so delighted to have achieved the goal of attending one of your days & I look forward to more opportunities to interact in the years to come.

19064473686
May 25 2023 03:11 PM

Yes it helped a lot but but I wished the sue talking a bit slower please

But she  is wonderful and so clever

19064473225
May 25 2023 03:08 PM
Writing Personal learning Plans for students and behaviour plans.
19064473169
May 25 2023 03:08 PM
To have a deeper understanding of my students who is on the spectrum and the strategies for success.
19064472824
May 25 2023 03:06 PM
This course has been valuable to identify and validate what is working well in learning support. Your passion Sue and perception to not give up and be persistent in small incidents I'd highly appreciated. Thanks for the day.
19064472712
May 25 2023 03:05 PM
I can use the strategies with the children at the centre and also share with families
19064472496
May 25 2023 03:03 PM
Yes. Lots of strategies for all ages and stages
19064472273
May 25 2023 03:02 PM
Yes your very knowledgeable
19064472176
May 25 2023 03:02 PM
Yes
19064472236
May 25 2023 03:02 PM
The practical strategies were great
19064472190
May 25 2023 03:02 PM

Strategies to help the faculty

Loved the profile, we started that this year across the school so even mainstream teachers know about ours

19064472267
May 25 2023 03:02 PM
Reminders on strategies and learning new ones
19064472195
May 25 2023 03:02 PM
Reassuring that I am not alone in dealing with neurodiverse students and providing useful and practical strategies to best support students at school.
19064472269
May 25 2023 03:02 PM
Practicality excellent
19064472318
May 25 2023 03:02 PM
Lots of practical suggestions. Very worthwhile
19064472317
May 25 2023 03:02 PM
It was just a great insight into Autism for a beginner teacher, great strategies .
19064472179
May 25 2023 03:02 PM
I understand my autistic class well.
19064472307
May 25 2023 03:02 PM
I gained  a better understanding of how to use different strategies
19064472219
May 25 2023 03:02 PM
Help to understand what it's like for ASD students, given me confidence to try tools and strategies.
19064472213
May 25 2023 03:02 PM
Certainly helps me in preparing myself for my students in class not just my neurodivergent
19064472178
May 25 2023 03:02 PM
Will help me how to properly deal with ASD and ODD children
19064472106
May 25 2023 03:01 PM

Very insightful. I have much more understanding and empathy

Thank you!!

19064472055
May 25 2023 03:01 PM
Very helpful
19064472060
May 25 2023 03:01 PM
Super helpful with practical tools to take into the classroom.
19064472053
May 25 2023 03:01 PM
It has given a lot of really interesting information
19064472039
May 25 2023 03:01 PM
Im looking forward to trying some new strategies
19064472138
May 25 2023 03:01 PM
I'm excited to try new strategies to ny students. Being concise clear with one step instrucstion
19064472159
May 25 2023 03:01 PM
I have 2 autistic children in my class. They are very different. This course has given me strategies to try in my classroom for each of them.
19064472040
May 25 2023 03:01 PM
Giving me strategies to go back and put in place
19064472014
May 25 2023 03:01 PM
Gave me strategies as a parent and a teacher
19064472112
May 25 2023 03:01 PM

Classroom strategies.

View of the child

19064472006
May 25 2023 03:01 PM
Apply to preschoolers
19064472087
May 25 2023 03:01 PM
All the incredible strategies shared by Sue. Taking away a huge amount of strategies to try in my classroom! Thank you. X
19064472048
May 25 2023 03:01 PM

A lot of strategies that I can try in class.

Just a little feedback of having a different seating setting. It would be nice to have a table so we can take notes.

19064472059
May 25 2023 03:01 PM
Refresher
19064471905
May 25 2023 03:00 PM
Reactions
19064471859
May 25 2023 03:00 PM
Meltdowns vs tantrums and strategies
19064471933
May 25 2023 03:00 PM
Lots of strategies to try, to know that some things we are doing are right
19064471989
May 25 2023 03:00 PM
I think it has made me reflect on my teacher and new strategies to try with by students. Thank you!
19064471994
May 25 2023 03:00 PM
I love your podcasts, webinars, this was a fantastic practical day of learning!
19064471988
May 25 2023 03:00 PM
I have put myself in their shoes in a much realer way.
19064471970
May 25 2023 03:00 PM
Help me gain a further understand of autism and neurodiverse students.
19064471976
May 25 2023 03:00 PM
Dealing with students better and sharing learning with colleagues
19064471961
May 25 2023 03:00 PM
All the strategies given and a reminder for things your already know
19064471952
May 25 2023 03:00 PM
Very much so
19064471081
May 25 2023 02:54 PM
I have learnt a lot and have also changed my mind.
19064463091
May 25 2023 02:04 PM
Lots of great practical ideas to support children in and outside of the classroom
19062836189
May 20 2023 11:17 AM
Gave me great ideas to use, different perspective on some things that will now have me reflecting on my own practice
19062536793
May 19 2023 03:21 PM
Gave more strategies to implement
19062533403
May 19 2023 02:59 PM
Definitely
19062533252
May 19 2023 02:58 PM

Practical ideas/strategies

Reinforced that I'm doing the best I can with chn ASD/ADD/ADHD children as an experienced teacher of 32 years.

19062533200
May 19 2023 02:57 PM
Immensely. I can't wait to try some things in my classroom. Thanks so much.
19062533186
May 19 2023 02:57 PM
This has helped me in a devolpmetal way as I can put into place how to help my children and fellow educators.
19062532957
May 19 2023 02:56 PM
This has helped me immensely, and has been reassuring that some of the things g's we are doing are right!
19062532922
May 19 2023 02:56 PM
Support my neurodiverse and non neurodiverse students
19062533082
May 19 2023 02:56 PM
Sue Larkey is amazing!!! Always a massive wealth of knowledge. Thanks agsin
19062532980
May 19 2023 02:56 PM
It's helped me understand my own children, to better help them cope with their needs
19062533002
May 19 2023 02:56 PM
It gave strategics
19062533070
May 19 2023 02:56 PM
Greatly
19062533004
May 19 2023 02:56 PM
Great understanding of neurodiversity, strategies
19062532993
May 19 2023 02:56 PM

Gave me strategies to support my kids.

Made me feel like im on the right track

19062532934
May 19 2023 02:56 PM
Becoming more aware of the sensory over behavioural motives.
19062532942
May 19 2023 02:56 PM
A lot of great tools to takeaway, a really enjoyable day and nice to know I'm not alone.
19062532955
May 19 2023 02:56 PM
A better understanding of neurodiversity and a range of teaching strategies
19062532950
May 19 2023 02:56 PM
Yes
19062532779
May 19 2023 02:55 PM
To know the difference about Asperger's and autism
19062532861
May 19 2023 02:55 PM
This course has helped me with so many strategies, visuals, communication, sensory toys and items to play with and I've learnt how to sort of "deal" with an ASD person. I also love how we need to tell people and make them aware of the child !
19062532909
May 19 2023 02:55 PM
Strategies
19062532874
May 19 2023 02:55 PM
So much common sense information, wonderful hints and tips.
19062532898
May 19 2023 02:55 PM
Reminded me of things I'd forgotten I knew, reassured me that what I already do is fine, given me strategies to use at home and school.
19062532863
May 19 2023 02:55 PM
Reassurance that I have some good strategies in place, and also some other good strategies to put in my toolkit to give a go
19062532786
May 19 2023 02:55 PM
Plan supports and strategies for our students
19062532784
May 19 2023 02:55 PM
New strategies for my class and kids. Was running on fumes and I feel very reenergised
19062532877
May 19 2023 02:55 PM
More understanding and resetting patience towards my students.
19062532914
May 19 2023 02:55 PM
Lots of practical ideas and strategies.
19062532837
May 19 2023 02:55 PM
I have received a lot of practical information that I can use in the classroom.
19062532893
May 19 2023 02:55 PM
I have a much better understanding of sensory vs behaviour vs meltdown
19062532791
May 19 2023 02:55 PM
Helped me understand different children and their behaviours that I deal with on a daily basis
19062532910
May 19 2023 02:55 PM
Great strategies that I can implement immediately.
19062532800
May 19 2023 02:55 PM
Gaining a lot more knowledge on very valuable lessons etc
19062532771
May 19 2023 02:55 PM
Consolidating what I have already learnt by piecemeal learning
19062532818
May 19 2023 02:55 PM
Confidence that my son will be ok when he goes to school in 2025
19062532852
May 19 2023 02:55 PM
100%
19062532866
May 19 2023 02:55 PM

Yes!

Thank you it was excellent and very informative.

19062532717
May 19 2023 02:54 PM
Will help me teach other teachers at my school and gives me a better understanding
19062532638
May 19 2023 02:54 PM
To help my students
19062532676
May 19 2023 02:54 PM
Strategies, understanding and hope
19062532640
May 19 2023 02:54 PM
Strategies and awareness
19062532654
May 19 2023 02:54 PM
So much to consider and implement
19062532704
May 19 2023 02:54 PM
So many tips that I can use straight away.
19062532721
May 19 2023 02:54 PM
Sensory understanding
19062532666
May 19 2023 02:54 PM
Practical strategies to support staff and students
19062532754
May 19 2023 02:54 PM
Practical refresher and new strategies to trial
19062532748
May 19 2023 02:54 PM
Opened thoughts and ways to manage
19062532661
May 19 2023 02:54 PM
Lots
19062532731
May 19 2023 02:54 PM
It helps me realise I'm doing things right and helps me understand and how to implement strategies
19062532752
May 19 2023 02:54 PM
It has help to understand students and the reason they do what they do in shut down mode
19062532686
May 19 2023 02:54 PM
In lots of different ways, the difference between types of behaviour and how to recognise them. Lots of different strategies to put in place
19062532711
May 19 2023 02:54 PM
In dealing with sad kids
19062532757
May 19 2023 02:54 PM
I can't wait to get back to school to start some of these strategies.
19062532745
May 19 2023 02:54 PM
Greater understanding and more strategies.
19062532732
May 19 2023 02:54 PM
Better understanding of understanding everyone
19062532632
May 19 2023 02:54 PM
Better understanding
19062532718
May 19 2023 02:54 PM
Reassurance of a of things you already do in the classroom.
19062531143
May 19 2023 02:43 PM

Excellent m

i

A

It has given me new insights about what to do in different situations  and  at times what to expect from different behaviours.!

19060181110
May 12 2023 04:10 PM
Reaffirmed teaching strategies I currently use but also broadened my knowledge of other tips and strategies that I should try with my current students.
19060171277
May 12 2023 03:04 PM
Helped to clarify understanding/learn new strategies to trial
19060171126
May 12 2023 03:03 PM

Lots of useful strategies.

More time for Q&A (possibly optional after course for those who want)

19060170894
May 12 2023 03:02 PM
Learnt different strategies to use in home environment
19060170988
May 12 2023 03:02 PM
I came as a grandmother, gave me tools to assist my granddaughter & some reassurance on some things I am doing.
19060170961
May 12 2023 03:02 PM
Given me more tools to use. Affirmation that what we are doing in our classroom is working.
19060170899
May 12 2023 03:02 PM

To have more empathy and understanding.

Better strategies.

Affirmation.

19060170730
May 12 2023 03:01 PM
Given me a new way of looking at things.
19060170736
May 12 2023 03:01 PM
Understanding more about child
19060170679
May 12 2023 03:00 PM
To change my daily practice
19060170552
May 12 2023 03:00 PM
Refreshing
19060170579
May 12 2023 03:00 PM
Just so much awareness and things I can improve
19060170603
May 12 2023 03:00 PM
It's made me think about my practices & how I can improve
19060170614
May 12 2023 03:00 PM
It has put alot of behaviours into perspective
19060170634
May 12 2023 03:00 PM
Immensely. I am presenting to our LSA's so thank you
19060170647
May 12 2023 03:00 PM
I can use what I have learnt to better support the students with autism in my class.
19060170691
May 12 2023 03:00 PM

I met Andy Larkey's wife and everything that you provided, Sue.

Lovely to meet you.

Thank you.

Helen x

19060169434
May 12 2023 02:52 PM
To better understand the development of my students and how to assist and help support
19060168835
May 12 2023 02:48 PM
i will be more confident in applying relevant strategies next week
19045633418
Mar 31 2023 03:56 PM
Good strategies, but still overwhelmed with the workload because this is one student and I still have 29 others.
19045630894
Mar 31 2023 03:40 PM
Given me more strategies to try & reminders about what is most important.
19045626989
Mar 31 2023 03:15 PM
It has greatly increased my knowledge of the different elements of neurodiversity and given me a huge resource of techniques and tools to integrate with my young people
19045626479
Mar 31 2023 03:12 PM

I think it has made me more anxious in some respect- being aware that each child is so different and how do I give my student all that he needs when I have a class full of 5 year olds with their individual needs(Year Ones-NZ) who I also need to teach to read, write etc. My student is totally non-verbal (as you mentioned 2 years below his age of 5- ie like a 3 year old)

I took away a lot of pointers and ideas- but it has also been a bit of an overload, as honestly, I already struggle to fall asleep at night worrying and strategizing for my student.

But I would still recommend it to others.

Do you do a course specifically for parents?

19045626256
Mar 31 2023 03:11 PM
Given me so many tools to use
19045626283
Mar 31 2023 03:11 PM

Understanding meltdowns vs Tantrum

Sensory issues

19045626091
Mar 31 2023 03:09 PM
More of an awareness of how these learners think/act (and why) and practical strategies to try.
19045625475
Mar 31 2023 03:06 PM
Love the practical strategies and acknowledgement of different meltdowns! It inspires me to try more strategies and allowing it could take times to workout whether it is effective or not. Thank you so much !
19045625550
Mar 31 2023 03:06 PM

I am a second year teacher.

I had 2 very challenging students last year (both with several diagnosed and undiagnosed issues) who were a regular threat to others when heightened. Both probably my favourite kids I've taught so far as well...

This course has helped me reflect on what I did right, what I could have done differently, what was going on for them last year.

I have a much calmer class now, but have so many strategies to use to support the 2 key players in my room who aren't a threat to other students, but who deserve my support to approach work and the classroom and to make it an engaging and non-threatening space for them

I am so inspired and excited after this day!

Thank you so very much for all you do and for making this course.

19045625474
Mar 31 2023 03:06 PM

Reenergised

Some strategies haven't tried

Explained difference between meltdown and tantrum

Thank you!

19045625231
Mar 31 2023 03:04 PM
Instead of just a description of ASD I have a ton of strategies to pull from my toolbox
19045625219
Mar 31 2023 03:04 PM
I have learned some new strategies and been reminded of some that I can use again. The 'Top 10 take away's' sheet is very useful! Loved the show bag. My mind is buzzing. Thank you!
19045625229
Mar 31 2023 03:04 PM
I have a lot of information that I believe will really help the primary school I work in.  I enjoyed the whole day, was really engaged.  Sue, you are such a great facilitator and so knowledgeable.  I really enjoyed the day.  Thank you very much!
19045625129
Mar 31 2023 03:04 PM
I feel much more confident to advocate for our children and know where to go for more help
19045625141
Mar 31 2023 03:04 PM
Helped me understand that all asd kids are different and we need individual strategies for each child
19045625213
Mar 31 2023 03:04 PM
Given me so many strategies to work with students and to assist other staff members to work with and understand my students. It takes a Viliage… thank you.
19045625189
Mar 31 2023 03:04 PM
Full of ideas and strategies to implement to help my students succeed!
19045625207
Mar 31 2023 03:04 PM
Reminded me to think more about the simple things and not expect so much, complicating communication
19045625084
Mar 31 2023 03:03 PM
Lots of very good information with practical strategies that I can use in my practice.
19045625078
Mar 31 2023 03:03 PM
Beyond thankful to Sue as this is my first year teaching on a Support unit class 🙂 Cannot wait to use the knowledge i gained in my classroom!
19045624986
Mar 31 2023 03:03 PM
Lots of great things to try out. Thank you so much
19045624832
Mar 31 2023 03:02 PM
I have strategies to assist with engaging autistic children to engage in the program and how to respond to meltdowns.
19045624819
Mar 31 2023 03:02 PM
Given me so much to think about and question some of the other children in my class. I now have tools to use
19045624892
Mar 31 2023 03:02 PM
Given me more tools to use
19045624879
Mar 31 2023 03:02 PM
With strategies and expectations of my student with suspected ODD
19045624696
Mar 31 2023 03:01 PM
Understand neurodiversity better, and enable one to provide support
19045624673
Mar 31 2023 03:01 PM
To differentiate between the meltdown
19045624648
Mar 31 2023 03:01 PM
Strategies, resources and understanding purposes of behaviour
19045624790
Mar 31 2023 03:01 PM

Provided new strategies

Reinforced concepts

Encouraged me to keep trying new things and stick with strategies already used.

19045624718
Mar 31 2023 03:01 PM
Practical, logical, doable strategies and direction
19045624666
Mar 31 2023 03:01 PM
New strategies for the classroom
19045624633
Mar 31 2023 03:01 PM
It has provided me with more strategies I can implement in my room to help many students
19045624691
Mar 31 2023 03:01 PM
It has helped me both professionally with my diverse k-2 class as well as personally with an adhd daughter and son on the spectrum 😊
19045624672
Mar 31 2023 03:01 PM
Increased knowledge and practical strategies to try with my little student.
19045624800
Mar 31 2023 03:01 PM
In many ways but the practical strategies that I can use each day is very helpful. As well as learning more about the actual disorder and how the student feels each day.
19045624634
Mar 31 2023 03:01 PM
Immensely, I have a disruptive high needs student with asd and many other complex students so I have a lot of ideas and strategies I will be putting into place next term.
19045624756
Mar 31 2023 03:01 PM
I have sat the course before and like to refresh, I find working with different children and staff there's always something new you can hear and use.
19045624638
Mar 31 2023 03:01 PM
How to understand why students do what they do and how to help them. This was an amazing course. So helpful. Thanks!
19045624658
Mar 31 2023 03:01 PM
Given me some new strategies to try in my class.
19045624726
Mar 31 2023 03:01 PM
Given me a larger toolbox to work with so that I can better support ALL the children in my class.
19045624701
Mar 31 2023 03:01 PM
new tools and could relate it to my students
19045624450
Mar 31 2023 03:00 PM
With strategies to accomodate and stretch our kids.
19045624605
Mar 31 2023 03:00 PM
Understanding
19045624470
Mar 31 2023 03:00 PM
New ideas, practice and strategies. Helped grow my awareness in issues I had limited info about.
19045624564
Mar 31 2023 03:00 PM
It has given me fantastic ideas to help my autistic student in particular, but I can also use some of the things I have learnt with my whole class e.g. traffic lights. It will also definitely help me long term. Thank you!
19045624508
Mar 31 2023 03:00 PM
It has given me extra tips and strategies and also reassurance and reinforcement about what I'm already doing. Thank you!
19045624625
Mar 31 2023 03:00 PM
Improve my skills
19045624548
Mar 31 2023 03:00 PM
Helped me realise a lot of situations in the classroom don't just happen to me. Given me some great strategies to help my students and how they learn.
19045624586
Mar 31 2023 03:00 PM
Has given me new strategies and ideas to use when working with students in my class
19045624463
Mar 31 2023 03:00 PM
Given me more strategies to use in my classroom to assist my children
19045624577
Mar 31 2023 03:00 PM

Given me more strategies

Awareness

19045624544
Mar 31 2023 03:00 PM
Given me lots of strategies to try and use.
19045624527
Mar 31 2023 03:00 PM
Feel more empowered to support my neurodiverse students.
19045624536
Mar 31 2023 03:00 PM
understand autism
19045624327
Mar 31 2023 02:59 PM
so many strategies
19045624355
Mar 31 2023 02:59 PM
for my studnet
19045624348
Mar 31 2023 02:59 PM
Useful ideas throughout
19045624338
Mar 31 2023 02:59 PM
Supported me in my role as a school leader and how I can support my staff with a whole school approach.
19045624321
Mar 31 2023 02:59 PM
Strategies I can use and why students do what they do and how to react to them thank you !!!!
19045624334
Mar 31 2023 02:59 PM
So much. Thank you appreciate today so much.
19045624437
Mar 31 2023 02:59 PM
Lots of practical ideas for busy teachers !!!
19045624359
Mar 31 2023 02:59 PM
I'm excited to give it all a go
19045624332
Mar 31 2023 02:59 PM
It's helped me to be more aware of other students with behaviour needs
19045624379
Mar 31 2023 02:59 PM
It has helped me to see ASD kids from their lens and to understand them better and ways to support them.
19045624391
Mar 31 2023 02:59 PM
It has given me more insight
19045624284
Mar 31 2023 02:59 PM
I have a really difficult 2/3 class that I am at a loss with. I feel that this has given me better tools to address these issues and allowed me to reflect on how I have possibly contributed to the problem rather than creating solutions
19045624286
Mar 31 2023 02:59 PM
Greater understanding of how my reaction may affect students.
19045624354
Mar 31 2023 02:59 PM
Consolidated and extended on existing knowledge. Thinking from the child's perspective. One thing at a time!
19045624280
Mar 31 2023 02:59 PM
Better understand of behavior reasons and strategies in neurodiverse students.
19045624420
Mar 31 2023 02:59 PM
Amazing practical ways to help our students
19045624296
Mar 31 2023 02:59 PM
A better understanding of ASD students, lots of great strategies and ideas.
19045624380
Mar 31 2023 02:59 PM
Yes.
19045624090
Mar 31 2023 02:58 PM
Yes
19045624243
Mar 31 2023 02:58 PM
Validated my feelings as a primary teacher, adjusting expectations of myself and my students.
19045624218
Mar 31 2023 02:58 PM
Understanding the cause of behaviours and diff points of view
19045624138
Mar 31 2023 02:58 PM
Understand the three phases of behaviour.
19045624224
Mar 31 2023 02:58 PM
To realised behaviors and differences
19045624256
Mar 31 2023 02:58 PM
The 10 take away/ strategies to try was super helpful! Thank you.
19045624083
Mar 31 2023 02:58 PM
So many validations of what we are doing and so many ideas moving forward. Thank you
19045624147
Mar 31 2023 02:58 PM
Revision of practical skills and understanding of how the students are feeling - videos were useful again, I saw them in the last workshop but they were really good to revisit.
19045624258
Mar 31 2023 02:58 PM
Rethink my approaches to behavioural challenges
19045624251
Mar 31 2023 02:58 PM
Resources to use in our school
19045624150
Mar 31 2023 02:58 PM
Reinforced the strategies I was already using- plus additional strategies
19045624141
Mar 31 2023 02:58 PM
Puts strategies front of mind.
19045624104
Mar 31 2023 02:58 PM
Provided me with so many strategies to use in my classroom.
19045624074
Mar 31 2023 02:58 PM
Practical tips and strategies
19045624212
Mar 31 2023 02:58 PM
Practical tips and explanations to implement classroom but also provide to parents
19045624118
Mar 31 2023 02:58 PM
Practical strategies to try with one of our students
19045624193
Mar 31 2023 02:58 PM
More knowledge and understanding about ASD Neurodiversity
19045624136
Mar 31 2023 02:58 PM
I'm so many ways, lots of supportive ways to support neurodiverse children in my care but also ways to help my son at home as well.
19045624125
Mar 31 2023 02:58 PM
I'm returning to work as a specialist teacher working with Chn with disabilities after 7 months off. Helped me get my head back in the game.
19045624105
Mar 31 2023 02:58 PM

It's helped me look at the different types of screen additction.

Feedback: please put subtitles to support EAL/ADHD people.

19045624137
Mar 31 2023 02:58 PM
Its a lot of information
19045624262
Mar 31 2023 02:58 PM
It will make my kids lives better which will also make my life easier and happier. You are a life changer and an earth angel thank you 🙂
19045624078
Mar 31 2023 02:58 PM
It has provided me with a long list of simple strategies to try in the classroom and make me thinking deeper about why students with ASD might behave / react a certain way.
19045624233
Mar 31 2023 02:58 PM

It has opened my eyes to how to best support the children and educators in my room and centre.

I feel like I have the tools I need to best support my children and families

19045624191
Mar 31 2023 02:58 PM
It has given me some more tools to use in my classroom. I could relate some of the new strategies with the students I have and i'm pumped to try them!
19045624161
Mar 31 2023 02:58 PM
It has given me a better understanding of  children experiencing sensory meltdowns  and strategies to help   Thank you
19045624268
Mar 31 2023 02:58 PM
It gave me some helpful tips.
19045624211
Mar 31 2023 02:58 PM
In more ways than I can explain in both my personal and professional life
19045624130
Mar 31 2023 02:58 PM
I will be able to take back realistic strategies that have been tried and tested to my classroom
19045624252
Mar 31 2023 02:58 PM
I know I've done all I can
19045624124
Mar 31 2023 02:58 PM
I have real life practical strategies to use with my kids.
19045624139
Mar 31 2023 02:58 PM
I have more understanding and have consolidated my prior learning and knowledge
19045624208
Mar 31 2023 02:58 PM
I have lots more strategies to help with my students.
19045624229
Mar 31 2023 02:58 PM
I have a better insight into how my kids think and how I can support them
19045624097
Mar 31 2023 02:58 PM
Helped give me new ideas for the child in my class who doesn't have a diagnosis as yet, but seems to have ODD to me, and will hopefully benefit from these ideas.
19045624082
Mar 31 2023 02:58 PM
Has helped me understand different disorders and how to react/not react
19045624094
Mar 31 2023 02:58 PM
Gives me a lot better understanding of ASD
19045624095
Mar 31 2023 02:58 PM
Given me so many tools that I can implement with my neurodiverse children
19045624148
Mar 31 2023 02:58 PM
Given me reassurance some of the things that I am doing are ok. Given me more strategies to try
19045624219
Mar 31 2023 02:58 PM
Given me new strategies to try and information to use when talking to mum about her child's diagnosis.
19045624194
Mar 31 2023 02:58 PM
Given me new strategies and reinforced some of the things I am already doing.
19045624213
Mar 31 2023 02:58 PM
Given me many practical strategies for myself to use and to pass onto my staff
19045624201
Mar 31 2023 02:58 PM
Given a base foundation to build on
19045624188
Mar 31 2023 02:58 PM
Gave strategies.
19045624207
Mar 31 2023 02:58 PM
Gave me more ideas to help work.with my student
19045624175
Mar 31 2023 02:58 PM
Gave me ideas, also made me see we are doing a great job.
19045624247
Mar 31 2023 02:58 PM
Fresh ideas and new parspectivesm
19045624128
Mar 31 2023 02:58 PM
Extremely practical
19045624167
Mar 31 2023 02:58 PM
Clarification and positive strategies
19045624235
Mar 31 2023 02:58 PM
Affirmed where to head next in supporting teachers at the school
19045624080
Mar 31 2023 02:58 PM

Affirmed current practice

Also given me new ideas to share with staff

19045624157
Mar 31 2023 02:58 PM
A good refresher and gave me ideas for new students I'm working with
19045624155
Mar 31 2023 02:58 PM
great strategies actual real examples
19045624018
Mar 31 2023 02:57 PM
Yes
19045623969
Mar 31 2023 02:57 PM
With strategies and a clearer understanding on the ASD and ADHD
19045624010
Mar 31 2023 02:57 PM
Understanding and strategies
19045624016
Mar 31 2023 02:57 PM
Strategies to try
19045623914
Mar 31 2023 02:57 PM
Strategies to help me as classroom teacher! Thank you!
19045623956
Mar 31 2023 02:57 PM
Strategies
19045623923
Mar 31 2023 02:57 PM
So many practical tips and ideas.
19045624054
Mar 31 2023 02:57 PM
Providing greater clarity about ASD and strategies to manage situations which will better support our kids.
19045624017
Mar 31 2023 02:57 PM
Practical ideas to share in my work with early intervention and my team. reinforced things I am already doing.
19045623983
Mar 31 2023 02:57 PM

Outstanding Course!

Thank you so much.

19045623964
Mar 31 2023 02:57 PM
On right track - keep trying - get all on board
19045624056
Mar 31 2023 02:57 PM
Managing my students
19045623946
Mar 31 2023 02:57 PM
Lots of time to reflect and make simple take away strategies to try
19045624041
Mar 31 2023 02:57 PM
Knowledge is power.
19045624012
Mar 31 2023 02:57 PM
It can help with helping with emotional regulation and decreasing anxiety
19045623970
Mar 31 2023 02:57 PM
Informative as well as practical solutions
19045624047
Mar 31 2023 02:57 PM
In supporting students moving forward.
19045623977
Mar 31 2023 02:57 PM
Improved my knowledge
19045623952
Mar 31 2023 02:57 PM
I will walk into work on Monday upskilled and ready to support one of my students diagnosed with Autism.
19045624055
Mar 31 2023 02:57 PM
I have two students with ODD and this information and skills have been invaluable! Thank you!
19045623987
Mar 31 2023 02:57 PM
Heaps
19045623949
Mar 31 2023 02:57 PM
Good strategies to take back to the classroom
19045624045
Mar 31 2023 02:57 PM
Better understanding of how to help my kids
19045623989
Mar 31 2023 02:57 PM
Behaviour management in the classroom
19045623940
Mar 31 2023 02:57 PM
Behaviour advice
19045624006
Mar 31 2023 02:57 PM
Reminded me to put myself in my students shoes.
19045622811
Mar 31 2023 02:50 PM
Reminders, new strategies, each time you learn something new.
19045622318
Mar 31 2023 02:47 PM
Reminding me of many things I have heard before but also giving me many ideas of other things to try. Also defining the difference between behaviour melt downs and tantrums.
19042873331
Mar 24 2023 02:56 PM
Great strategies
19042873431
Mar 24 2023 02:56 PM
Being a GPS clear, concise  consistent directive language
19042873294
Mar 24 2023 02:56 PM
Strategies to develop fire teachers and improved the student profiles
19042873238
Mar 24 2023 02:55 PM
Reminding myself of progress over perfection
19042873193
Mar 24 2023 02:55 PM
My take-always; especially Tomorrow Box/set them up to finish/set up clubs.
19042873251
Mar 24 2023 02:55 PM
More strategies and better understanding of a non diagnosed student
19042873122
Mar 24 2023 02:55 PM
Learned practical techniques to assist students with neurodiversity
19042873109
Mar 24 2023 02:55 PM
It has been very informative
19042873233
Mar 24 2023 02:55 PM
I feel much more equipped to support staff at school. Lots of strategies to try. Lots of simple things to implement.
19042873155
Mar 24 2023 02:55 PM
I feel empowered
19042873187
Mar 24 2023 02:55 PM
Got more idea about it
19042873227
Mar 24 2023 02:55 PM
Understand children and adults who are on the spectrum a lot more and be more tolerable
19042872954
Mar 24 2023 02:54 PM
Strategies to help at the kindergarten
19042872957
Mar 24 2023 02:54 PM
Strategies for working with students.
19042873010
Mar 24 2023 02:54 PM
New/revisiting strategies to deal with students.
19042873017
Mar 24 2023 02:54 PM
More strategies
19042872965
Mar 24 2023 02:54 PM
Made me more aware of how students are different and how they think differently
19042873006
Mar 24 2023 02:54 PM
I've got some practical ideas and strategies that I can take back to my school and students I work with to begin implementing or trying little at a time.
19042872918
Mar 24 2023 02:54 PM
It's provided me with practical strategies to support my students.
19042872909
Mar 24 2023 02:54 PM
It has helped me to better understand my students and how I can best support them in the classroom. It has also provided many useful strategies for my Education Support Staff and myself.
19042872985
Mar 24 2023 02:54 PM
Immensely
19042872938
Mar 24 2023 02:54 PM
I think so. Certainly received valuable ideas for strategies
19042873083
Mar 24 2023 02:54 PM

Helped me collect new strategies to use at home with my children and in my workplace.

Thank you!

19042873042
Mar 24 2023 02:54 PM
Have different strategies to use at school.
19042873081
Mar 24 2023 02:54 PM
Has definitely equipped me with lots of tips and tools to use
19042872969
Mar 24 2023 02:54 PM
Given me more tools and strategies to try.
19042873045
Mar 24 2023 02:54 PM
Clear understanding,  valuable practical tools, resources to share.
19042872913
Mar 24 2023 02:54 PM
Changed my thinking
19042872975
Mar 24 2023 02:54 PM
Better understanding of sensory. Have more visuals
19042873066
Mar 24 2023 02:54 PM
A timely refresher to prepare learning for staff and further supprt for staff
19042873004
Mar 24 2023 02:54 PM
A lot
19042873058
Mar 24 2023 02:54 PM
To consider the needs of students in my class
19042872895
Mar 24 2023 02:53 PM
Strategies which are useful and easy. Knowledge to inform choices.
19042872802
Mar 24 2023 02:53 PM
Provided me with strategies I can trail in my classroom.
19042872751
Mar 24 2023 02:53 PM
Practical solutions for everyday use. Thank you.
19042872781
Mar 24 2023 02:53 PM
Learn strategies for the classroom
19042872757
Mar 24 2023 02:53 PM
In lots of ways as I am new to my job
19042872870
Mar 24 2023 02:53 PM
I feel better equipped to manage the behaviour of children with ASD. I have strategies at the ready and look forward to implementing and trialing them.
19042872789
Mar 24 2023 02:53 PM
Helps me to understand
19042872823
Mar 24 2023 02:53 PM
Going into Monday with new strategies for my students and the school.
19042872794
Mar 24 2023 02:53 PM
Giving me greater understanding of learners with ASD and AD. Thank you 🤗
19042872848
Mar 24 2023 02:53 PM
Give me more tools to take away and feel more confident. Thanks.
19042872907
Mar 24 2023 02:53 PM

Awareness awareness awareness is the key

Change the structure not the child

19042872838
Mar 24 2023 02:53 PM
As an Occupational therapist it's great to get this information to work closely with teachers - understanding them in their environment and aiming to support in that environment
19042872880
Mar 24 2023 02:53 PM
As a graduate, it's good to have this info up front rather than having find all the strategies on my own
19042872899
Mar 24 2023 02:53 PM
Apply some really helpful strategies for sourcing ADHD students in my class.
19042872873
Mar 24 2023 02:53 PM
Lots of useful tips I can use in the classroom. Confirmed things I was already doing. Made me feel more confident. Good reminder of things I know but forgot/no longer use and should try again.
19042872713
Mar 24 2023 02:52 PM
Lots of useful strategies to implement with my students.
19042872442
Mar 24 2023 02:51 PM
Understanding my own children and reflecting on my own practice and approach. Reassurance and understanding.
19042872321
Mar 24 2023 02:50 PM
Connected many things for me and let me know about Hyperlexia ~ an 'ah ha!' moment. Thank you
19042872338
Mar 24 2023 02:50 PM
To support my work in the classroom with my students
19042872218
Mar 24 2023 02:49 PM
Gained a better understanding of ASD, increased my knowledge of how to use support strategies
19042487594
Mar 23 2023 08:10 PM
Was Given a variety of strategies I hadn't thought to use
19042432522
Mar 23 2023 03:34 PM
It has provided me with practical teaching strategies and behavioural support for the classroom.
19042427178
Mar 23 2023 02:57 PM
To share information.
19042427053
Mar 23 2023 02:56 PM
It has helped me be more aware of the different learners in my classroom and their needs. It has given me some helpful strategies to implement in the classroom. Been some good reminders for me too.
19042426927
Mar 23 2023 02:56 PM
Given ideas how to deal with different situations. How ideas can be used for any child and situations
19042426742
Mar 23 2023 02:55 PM
The course has helped with strategies to use for children with my centre.
19042426658
Mar 23 2023 02:54 PM
Relevant useful strategies to implement
19042426600
Mar 23 2023 02:54 PM
I'm about to begin my career as a teacher and I feel like the strategies I have learnt today will assist me being more confident in my role.
19042426703
Mar 23 2023 02:54 PM
Given ideas on a lot of topics and rethinking ways of helping different students
19042426623
Mar 23 2023 02:54 PM
Yes
19042426524
Mar 23 2023 02:53 PM
With understanding how the children are feeling and better ways to adapt with them.
19042426547
Mar 23 2023 02:53 PM
Understand how to help my children more
19042426444
Mar 23 2023 02:53 PM

Reinforce what I'm doing well and not well.

Try some new strategies

19042426565
Mar 23 2023 02:53 PM
Recharge me to work with neurodiverse and neurotypical, so all students!!
19042426509
Mar 23 2023 02:53 PM

Lots of strategies plus lots

Of help getting a better understanding of adhd, asd, incl how to manage

19042426464
Mar 23 2023 02:53 PM
It has built my understanding and reassurance that I'm not alone with dealing and adapting with children's needs.
19042426545
Mar 23 2023 02:53 PM
It has allowed me to reflect on my practice and how to share my knowledge with colleges.
19042426481
Mar 23 2023 02:53 PM
Improved my understanding,  of ODD
19042426502
Mar 23 2023 02:53 PM
Helps me reflect on the way I handle children in the classroom, to be more aware of differences, practical strategies to try! 🤗
19042426529
Mar 23 2023 02:53 PM
Have a deeper understanding about what practices to put into place to help students cope and deal with different behaviours. What visual aids to use to assist students
19042426571
Mar 23 2023 02:53 PM
Given some more ideas
19042426482
Mar 23 2023 02:53 PM
Given me new strategies and techniques to assist with my job
19042426457
Mar 23 2023 02:53 PM
Coping strategies, more information to help children and families
19042426422
Mar 23 2023 02:53 PM
Building resources and skills in identifying ASD and better behaviour management skills.
19042426426
Mar 23 2023 02:53 PM
Broader knowledge and options to deal with the kids.
19042426534
Mar 23 2023 02:53 PM
With my own emotion regulation strategies to try.
19042426283
Mar 23 2023 02:52 PM
Reinforced what I already know and that I'm on the right track.
19042426368
Mar 23 2023 02:52 PM
New ideas and ways to deal with autism, ood and sensory issues within my classroom
19042426287
Mar 23 2023 02:52 PM
Lots of tools to keep in the kit and to try
19042426360
Mar 23 2023 02:52 PM
It's helped my with my job as an SLSO and a mum of an autistic son.
19042426322
Mar 23 2023 02:52 PM
Given me strategies to try, confidence that we can help make a difference and support our child
19042426291
Mar 23 2023 02:52 PM
Different strategies to apply and try!
19042426258
Mar 23 2023 02:52 PM
Different strategies and re enforced strategies currently using are correct, that consistency is the key.
19042426280
Mar 23 2023 02:52 PM
Clearer understanding of Autism
19042426329
Mar 23 2023 02:52 PM
Of course.. Thank you
19042425981
Mar 23 2023 02:50 PM
The practical suggestions and the reminders of how the student must be feeling
19041455384
Mar 21 2023 09:47 AM
I have taken the most important 'take always' that we wrote down and hopefully apply them in my practice. I'm sure everybody took something. Thank you Sue for your heartfelt help which you have gained from your experiences. Till next time.
19040759362
Mar 19 2023 07:26 AM
This course has given me lots of practical tips to manage challenging behaviours and also to engage my autistic learners.
19040547770
Mar 18 2023 11:19 AM

Deepen my knowledge and awareness. Many many strategies to set our neurodivergent students up for success.

Diff ability not a disability!

19040516351
Mar 18 2023 08:46 AM
It has put into perspective for me, certain behaviours of my students that just seem a little "off" but have no diagnosis.
19040242917
Mar 17 2023 07:27 PM
To understand the differences in the behaviours
19040238967
Mar 17 2023 07:08 PM
Better understand the student and using specific strategy taught
19040234740
Mar 17 2023 06:48 PM
Immensely. I haven't stopped thinking about all yhe strategies I'm going to apply in the coming weeks. Thank you Sue Larky for your wealth of knowledge and professionalism. Greatly appreciated.
19040215876
Mar 17 2023 05:05 PM
It was very informative, and make you think in a different perspective.
19040214584
Mar 17 2023 04:56 PM
It gives me better understanding of children with ASD and strategies in handling them. Thank you
19040213574
Mar 17 2023 04:49 PM
Given me an idea of how to best support my student.
19040202624
Mar 17 2023 03:33 PM
To better understand children what they experience at school what educators responsibilities are to support them. I would have liked to hear more about Early Childhood as I am an ECT   There was more emphasis on school children in the course
19040201730
Mar 17 2023 03:27 PM
I am making a plan for my student from a place of more knowledge and less fear. Thank you
19040199074
Mar 17 2023 03:10 PM
Practical strategies to use in the classroom straight away!
19040198508
Mar 17 2023 03:06 PM
It's given me lots of new strategies
19040197177
Mar 17 2023 02:58 PM
Focus on the student and the school wide processes instead of putting out fires as they happen.
19040197278
Mar 17 2023 02:58 PM
It will help me to deal with my Autistic and other students.
19040197105
Mar 17 2023 02:57 PM
Gained knowledge of Autism which is knew to me
19040196788
Mar 17 2023 02:56 PM
I'm more coni in applying practical strategies.
19040196722
Mar 17 2023 02:55 PM
Useful, easy understanding enjoy my day
19040196448
Mar 17 2023 02:54 PM
Understand what goes on in the little minds of neurodiverse children and how they perceive the world. I'm better able to empathise with them now.
19040196548
Mar 17 2023 02:54 PM
So many more tools in my toolbox for both work and home.
19040196455
Mar 17 2023 02:54 PM
It has helped me with strategies to support all students in my support class. Thank you
19040196493
Mar 17 2023 02:54 PM
Has helped me understand the 'what' but also the 'what to do'
19040196461
Mar 17 2023 02:54 PM
Clarity of neurodiversity
19040196454
Mar 17 2023 02:54 PM
A much greater understanding of autism
19040196468
Mar 17 2023 02:54 PM
Will help me understand the children and myself more on the job and socially
19040196376
Mar 17 2023 02:53 PM
Putting effective strategies in class for teaching students on the spectrum
19040196380
Mar 17 2023 02:53 PM
Lots of strategies
19040196298
Mar 17 2023 02:53 PM
It was excellent and I learnt many new strategies
19040196327
Mar 17 2023 02:53 PM
In class strategies
19040196400
Mar 17 2023 02:53 PM
Immensely
19040196311
Mar 17 2023 02:53 PM
Confidence in knowing how to assist teachers and parents as an OT
19040196379
Mar 17 2023 02:53 PM
Building confidence to tackle different situations.
19040196280
Mar 17 2023 02:53 PM
Supporting my students with ASD but also how I can support other students in my class.
19040196185
Mar 17 2023 02:52 PM
Reassurance that we are implementing good strategies and doing the right thing!
19040196259
Mar 17 2023 02:52 PM
Practical practical fun
19040196170
Mar 17 2023 02:52 PM
Practical ideas
19040196253
Mar 17 2023 02:52 PM
My role is to put suggestions in for teachers to help support neurodiverse students and Irgun a network. . So practical ideas to further support my schools
19040196271
Mar 17 2023 02:52 PM
Knowledge of ASD
19040196197
Mar 17 2023 02:52 PM
I feel more knowledgeable and equipped with additional strategies. Thank you! 😊
19040196156
Mar 17 2023 02:52 PM
Hugely practical, thank you!!
19040196129
Mar 17 2023 02:52 PM
Greater understanding of ASD students
19040196134
Mar 17 2023 02:52 PM
Given me lots of ideas and strategies tailored to it students
19040196148
Mar 17 2023 02:52 PM
Change is possible. It takes small steps and a few strategies in the bank. It's okay if one doesn't work on one day, it may (just like a coat)
19040196268
Mar 17 2023 02:52 PM
Besides the useful information, I liked the passing around of the book about inclusive behaviours in the classroom. This session has provided me with confidence in the classroom.
19040196120
Mar 17 2023 02:52 PM
As a parent and a teacher I've learnt so much to put in action it's so practical. Thank you
19040196250
Mar 17 2023 02:52 PM
Yes thank you.
19040196071
Mar 17 2023 02:51 PM
Yes
19040195964
Mar 17 2023 02:51 PM
Very well set out and thank you!
19040196049
Mar 17 2023 02:51 PM
Understanding autism and strategies to use, 10 strategies for success!
19040196105
Mar 17 2023 02:51 PM
Sooo many strategies to help put in the classroom. Thank you so much!
19040196104
Mar 17 2023 02:51 PM
So many useful strategies
19040195952
Mar 17 2023 02:51 PM
Reaffirming
19040196035
Mar 17 2023 02:51 PM
Provided strategies!
19040195969
Mar 17 2023 02:51 PM
It has made me more aware of different strategies I can implement into my classroom.
19040196009
Mar 17 2023 02:51 PM
It has helped me with strategies for two specific students in my class. I am very grateful!
19040196073
Mar 17 2023 02:51 PM
Better understand my children
19040196083
Mar 17 2023 02:51 PM

Yes

Just a lot of sitting 🙂

19040195452
Mar 17 2023 02:48 PM
Practical strategies and understanding
19040195504
Mar 17 2023 02:48 PM
Practical strategies
19040195181
Mar 17 2023 02:46 PM
Great recap of awareness, strategies and resources after attending same presentation with Sue about 5-6 years ago.
19039800905
Mar 16 2023 07:29 PM
It helped me a lot in gaining insight, knowledge and deeper understanding about the conditions and my students (neurodiversity). First time teaching a class with a number of students with special needs in mainstream and composite class.
19039770800
Mar 16 2023 05:03 PM
I know understand ASD a lot more and have useful strategies and a toolkit to take back to my class!
19039755893
Mar 16 2023 03:25 PM

Understanding how I can use practical solutions in the classroom, especially in terms of transitions and visuals.

One thing I really want to add is that Asperger's has more of a history that just being taken out of the DSM. Hans Asperger was a Nazi doctor who first named Asperger's and also used it as a reason to put more people into concentration camps. The autistic community have stopped using the word (for the most part) for this reason, and because seperating people based on abilities is abelist. That was the hardest thing to listen to.

19039751814
Mar 16 2023 03:00 PM
Very much
19039751436
Mar 16 2023 02:58 PM
Lots of practical strategies to implement in my service with our children with Autism
19039751514
Mar 16 2023 02:58 PM
Very helpful, learned a lot and re-enforced my own strategies and goals
19039751299
Mar 16 2023 02:57 PM
Learning about how autistic kids learn
19039751297
Mar 16 2023 02:57 PM
Good takeaways. The top 10 on the last page made it very easy to takeaway the most useful parts without going away feeling overwhelmed
19039751335
Mar 16 2023 02:57 PM
Deeper understanding and gave me resources to reflect with my centre educatirs
19039751345
Mar 16 2023 02:57 PM

Lots of practical information to apply with students.

Increased understanding of ASD

19039751262
Mar 16 2023 02:56 PM
Help me understand the kids in my class and try to help them be more successful and reach their potential
19039751229
Mar 16 2023 02:56 PM
A greater understanding of how to support ALL my students, whether they are diagnosed or not!
19039751175
Mar 16 2023 02:56 PM
Some great tools and reminders .  Thank you Sur
19039751089
Mar 16 2023 02:55 PM
Practical strategies, increased understanding.
19039750993
Mar 16 2023 02:55 PM
It has provided me with beneficial information and strategies to utilise in the classroom.
19039751023
Mar 16 2023 02:55 PM
I now have strategies and understanding on how to assist my ASD/neuro divergent students  I have a much better understanding of their triggers/ways to recognise them
19039751030
Mar 16 2023 02:55 PM
Have more strategies to support students with autism.
19039751035
Mar 16 2023 02:55 PM
Better understanding of the ASD
19039750961
Mar 16 2023 02:55 PM
Watching the videos
19039750834
Mar 16 2023 02:54 PM
Understanding
19039750900
Mar 16 2023 02:54 PM
Thank you so much. Staff and students will benefit from sharing your expertise
19039750867
Mar 16 2023 02:54 PM
Sue is so dynamic, the course was engaging, easy to understand with lots of take away's
19039750935
Mar 16 2023 02:54 PM
So many tips and strategies to implement and try
19039750879
Mar 16 2023 02:54 PM
Simple strategies that could be put in place straight away.
19039750779
Mar 16 2023 02:54 PM
Reinforcing knowledge
19039750882
Mar 16 2023 02:54 PM
Reinforced teaching skills
19039750902
Mar 16 2023 02:54 PM
Reinforced prior knowledge, understanding of meltdowns, modelling responses we can use with colleagues
19039750801
Mar 16 2023 02:54 PM
Practical strategies
19039750838
Mar 16 2023 02:54 PM
More understanding of my students and inspired to implement some excellent strategies for them !
19039750773
Mar 16 2023 02:54 PM
I'm more understanding!
19039750819
Mar 16 2023 02:54 PM
It helped me in implementing strategies in my own classroom
19039750841
Mar 16 2023 02:54 PM
It has helped me better understand the children in my class and how I can support them
19039750899
Mar 16 2023 02:54 PM
Immensely- lots to reflect on & simple changes to make. I like the way Sue gave us manageable strategies.
19039750945
Mar 16 2023 02:54 PM
I have a better understanding of how I can make a difference to the children in my class
19039750797
Mar 16 2023 02:54 PM
Help me think about changing the structure rather than the student.
19039750897
Mar 16 2023 02:54 PM
Great tips to use with neurodiverse kids.
19039750881
Mar 16 2023 02:54 PM
Given me useful strategies and ideas
19039750931
Mar 16 2023 02:54 PM
Given me practical strategies and increased understanding of multiple kids
19039750766
Mar 16 2023 02:54 PM
Gave me strength for the days ahead
19039750941
Mar 16 2023 02:54 PM
Every day , much more confident
19039750833
Mar 16 2023 02:54 PM
Equipped me to respond better to my classroom situation.
19039750762
Mar 16 2023 02:54 PM
Deeper knowledge base, skills and practical application of how to love all of the students in my care. Thank you!
19039750934
Mar 16 2023 02:54 PM
Acknowledging different tools to help in the classroom
19039750862
Mar 16 2023 02:54 PM

Understanding ASD

Amazing!!!!

19039750646
Mar 16 2023 02:53 PM
Reconfirming things I already know and giving me more tools in my toolbox to help my students
19039750706
Mar 16 2023 02:53 PM
More understanding of some different strategies that I have not tried
19039750697
Mar 16 2023 02:53 PM
Many stratifies can be applied to a vast range of students!
19039750738
Mar 16 2023 02:53 PM
Lots of practical strategies that I can use in the classroom.
19039750659
Mar 16 2023 02:53 PM
Immeasurably!! Have read her books and online info but seeing her live I learnt so much more
19039750745
Mar 16 2023 02:53 PM
I will take back to the classroom many new ideas to assist with not just ASD students but the whole class.
19039750737
Mar 16 2023 02:53 PM
I will be more understanding
19039750760
Mar 16 2023 02:53 PM
Given me more of an understanding and more strategies to try.
19039750647
Mar 16 2023 02:53 PM
Feel reassured that I am trying strategies and ready to try some new strategies m.
19039750700
Mar 16 2023 02:53 PM
Equipped me with so many excellent strategies I can use with students in my class.
19039750730
Mar 16 2023 02:53 PM
Embracing the difference
19039750724
Mar 16 2023 02:53 PM
Reminders of strategies and reaffirming current practice
19039750560
Mar 16 2023 02:52 PM
I am going to implement some of these strategies immediately
19039750470
Mar 16 2023 02:52 PM
Some great strategies and resources that I will use
19039750285
Mar 16 2023 02:51 PM
Knowledge
19039750021
Mar 16 2023 02:49 PM
It has helped me to understand autism and Asperger's. Great strategies and how they self regulate.
19039749915
Mar 16 2023 02:49 PM
In terms of choosing your battles.
19039749711
Mar 16 2023 02:47 PM
Able to identify behaviour with a certain child in my class. This course has given me ideas on how to deal with this child.
19039749572
Mar 16 2023 02:47 PM
 Best way to approach and deal
19039742637
Mar 16 2023 02:09 PM
Working in everyday situations
19036766817
Mar 09 2023 06:47 AM
Has given me a reset on how I think about and approach my daughter's challenges, as well as some new techniques to try both at home and school.
19036460188
Mar 08 2023 04:15 PM
new strategies to try
19036448755
Mar 08 2023 03:12 PM
Practical idras
19036448834
Mar 08 2023 03:12 PM

Yes definitely! Very informative and I can't wait for the next one and to continuously educate myself in my professional development as a teachers aide and at home with my neurodiverse child.

Thankyou Sue!

19036448323
Mar 08 2023 03:09 PM
So practical!!!!!!
19036447457
Mar 08 2023 03:05 PM
I have great ideas to try out and share
19036447447
Mar 08 2023 03:05 PM
Great reminder of behaviour strategies
19036447210
Mar 08 2023 03:04 PM
Getting useful strategies
19036447260
Mar 08 2023 03:04 PM
making me a more thoughtful practitioner
19036447104
Mar 08 2023 03:03 PM
Strategies to take away
19036447161
Mar 08 2023 03:03 PM
So many practical strategies.
19036446988
Mar 08 2023 03:03 PM
Small steps.. not a giant step. Progress not perfection. This was really reassuring to hear.
19036447013
Mar 08 2023 03:03 PM
Reinforced the strategies I'm using and given me more strategies to use.
19036447012
Mar 08 2023 03:03 PM
Practical solutions to use in the classroom.
19036447123
Mar 08 2023 03:03 PM
A list of responses/considerations for certain behaviors
19036447100
Mar 08 2023 03:03 PM
Understanding the behaviour of the student in my class and how to best help him.
19036446932
Mar 08 2023 03:02 PM

Practical steps for me to use.

New knowledge and understanding.

Helped me to have greater empathy- walk in their shoes

19036446868
Mar 08 2023 03:02 PM
Massively for work
19036446856
Mar 08 2023 03:02 PM
Made me aware of some additional strategies, meltdown or tantrum will be beneficial
19036446940
Mar 08 2023 03:02 PM

It will help me support the students at my school and also support the staff.

Thank you.

19036446877
Mar 08 2023 03:02 PM
Helped me to understand my ASD clients and how to support them in therapy and how to assist they're teachers and SLSO's
19036446846
Mar 08 2023 03:02 PM
Gained new strategies
19036446962
Mar 08 2023 03:02 PM
Better understanding on how to apply different strategies
19036446947
Mar 08 2023 03:02 PM
This is my first year teaching in a specialist setting. The top 10 take aways will be my bible for the rest of this year.
19036446657
Mar 08 2023 03:01 PM
Education in how to support students. Strategies
19036445283
Mar 08 2023 02:54 PM
As above.
19036442422
Mar 08 2023 02:40 PM
It has equipped me to do my job better
19035430471
Mar 06 2023 01:18 PM
In a variety of ways for the whole class and individual students on the spectrum, especially the 10 take away pages.
19034505307
Mar 03 2023 02:59 PM
Much greater understanding about neurodiverse children
19034504912
Mar 03 2023 02:57 PM
Fresh ideas and strategies
19034503671
Mar 03 2023 02:51 PM
Supporting transitions and other practical strategies.
19031940763
Feb 25 2023 07:55 AM
Greater understanding of ASD and take ways to try with my son and his teacher to try too
19031708794
Feb 24 2023 09:30 PM
Great strategies to implement
19031643192
Feb 24 2023 03:51 PM
Thank you.
19031642454
Feb 24 2023 03:46 PM
Made me understand between meltdown and tantrums
19031642438
Feb 24 2023 03:46 PM

It will help me manage my year 10 students who I case mange who all have ASD.

Also with my daughter who has ADHD.

19031642507
Feb 24 2023 03:46 PM
Immensely. I am now able to use the tools in class confidently (some were known to me earlier as well) but learning from Sue gives me confidence that I'm doing the right thing.
19031642432
Feb 24 2023 03:46 PM
This course has been fantastic- Sue's teaching experience makes her stories relatable and she shows her expertise in realistic scenarios which educators face each day. Thank you for imparting your knowledge.
19031642324
Feb 24 2023 03:45 PM
The course has refreshed my knowledge and given me knew ideas and strategies
19031642293
Feb 24 2023 03:45 PM
Reinforced my belief that ASD needs to be managed by a team.
19031642239
Feb 24 2023 03:45 PM
New strategies to share
19031642260
Feb 24 2023 03:45 PM
Lots of strategies
19031642348
Feb 24 2023 03:45 PM
Given me so many things to try and information on autism and how it presents
19031642340
Feb 24 2023 03:45 PM
Absolutely. Looking forward to discussing with the family
19031642373
Feb 24 2023 03:45 PM
What does autism look like. Stratified for meltdowns.
19031642181
Feb 24 2023 03:44 PM
Transition - during shift handover
19031642104
Feb 24 2023 03:44 PM
This was so helpful in so many ways. I liked the analogies between medical needs.
19031642202
Feb 24 2023 03:44 PM
Strategies were so practical
19031642049
Feb 24 2023 03:44 PM
Practical ideas for real students that I can use Monday.
19031642129
Feb 24 2023 03:44 PM
More confidence to talk about and teach others about how to support students
19031642081
Feb 24 2023 03:44 PM
Explaining differences in meltdowns and tantrums, importance of repetition.
19031642127
Feb 24 2023 03:44 PM
Definitely
19031642074
Feb 24 2023 03:44 PM
Better understanding and some strategies
19031642055
Feb 24 2023 03:44 PM
Yes
19031642026
Feb 24 2023 03:43 PM
With practical strategies but also ways to give staff and parents insight into how to put themselves into the child's shoes.
19031641958
Feb 24 2023 03:43 PM
Understanding Autism spectrum
19031641941
Feb 24 2023 03:43 PM

Understanding

Clarification

Affirmation.

19031641885
Feb 24 2023 03:43 PM
There are a number of simple strategies I will implement tomorrow
19031641945
Feb 24 2023 03:43 PM
The strategies and understanding of the conditions
19031641944
Feb 24 2023 03:43 PM
Takings away small parts
19031641950
Feb 24 2023 03:43 PM
Strategies and information and understanding.
19031641872
Feb 24 2023 03:43 PM
Reminder of what I know and some extras you shared
19031641886
Feb 24 2023 03:43 PM
Practical ideas for the classroom and to share with staff.
19031641871
Feb 24 2023 03:43 PM
More understanding and some strategies
19031641966
Feb 24 2023 03:43 PM
Ideas
19031641925
Feb 24 2023 03:43 PM
I have been given practical tips to help my student each day.
19031641884
Feb 24 2023 03:43 PM
I actually think I understand d Phoenix better
19031641984
Feb 24 2023 03:43 PM
Great reminders.
19031641998
Feb 24 2023 03:43 PM
Excellent tips and practical application. More appreciation about differences for each student
19031641974
Feb 24 2023 03:43 PM
Difference between sensory/behaviour meltdowns and tantrums
19031641994
Feb 24 2023 03:43 PM
As a HOSES, there are so many important topics and concepts that can be discussed and enacted at school. I highly recommend this workshop.
19031642025
Feb 24 2023 03:43 PM
Strategies to implement into the classroom
19031641734
Feb 24 2023 03:42 PM
Strategies
19031641772
Feb 24 2023 03:42 PM
Provided some wonderful insight and strategies
19031641847
Feb 24 2023 03:42 PM
Provide a toolkit of useless strategies to assist teachers support their diverse learners
19031641809
Feb 24 2023 03:42 PM
Practical strategies
19031641712
Feb 24 2023 03:42 PM
Multiple strategies to take away
19031641762
Feb 24 2023 03:42 PM
Lots of strategies to help ASD students
19031641830
Feb 24 2023 03:42 PM
Lots of practical strategies
19031641849
Feb 24 2023 03:42 PM
Learning what could help
19031641817
Feb 24 2023 03:42 PM
I think I understand ASD better and how yo help my students.
19031641756
Feb 24 2023 03:42 PM
Classroom applications. Understanding the mind of students
19031641701
Feb 24 2023 03:42 PM
100% has helped me
19031641769
Feb 24 2023 03:42 PM
Strategies and understanding
19031641628
Feb 24 2023 03:41 PM
Realistic strategies that are easy to implement
19031641518
Feb 24 2023 03:41 PM
It has given me a few more strategies to try with my son and to use when I commence my role as a TA
19031309750
Feb 23 2023 11:27 PM
Helped me to understand students with Autism more and strategies to apply.
19031207688
Feb 23 2023 04:02 PM
This course has offered numerous strategies to assist our staff in our learning journey and hence improve outcomes for our neurodiverse children.
19031207535
Feb 23 2023 04:01 PM
Lots of great information to reflect on my practice and parenting
19031207505
Feb 23 2023 04:01 PM
Understanding ASD behavior
19031207447
Feb 23 2023 04:00 PM
To help identify cues to avoid meltdowns
19031207391
Feb 23 2023 04:00 PM
Have a better understaning and be able to recognise and implement some new strategies within the classroom
19031207375
Feb 23 2023 04:00 PM
Given me more strategies to deal with ASD challenging behaviours
19031207348
Feb 23 2023 04:00 PM
We have a lot of children with these  problems now I have things to help that child
19031207321
Feb 23 2023 03:59 PM
Understanding what's going on for our learners and the practical thinking and strategies.
19031207325
Feb 23 2023 03:59 PM
Lots of practical examples I can use.
19031207324
Feb 23 2023 03:59 PM
It has reminded me of thing I had forgotten. I has given me some questions to take to a meeting with a parent which I've put off.
19031207192
Feb 23 2023 03:59 PM
It has helped me to understand ASD more thoroughly and given me some useful strategies to try in my classroom with my students.
19031207176
Feb 23 2023 03:59 PM
Information to make a difference as an educator.
19031207231
Feb 23 2023 03:59 PM
Have me a better understanding of ASD and supporting the child
19031207302
Feb 23 2023 03:59 PM
Giving me ideas for which strategies might work for the children I work with
19031207238
Feb 23 2023 03:59 PM
Given me additional tools to assist these children daily. Thank you.
19031207215
Feb 23 2023 03:59 PM
Given me a range of strategies to support students, as well as a greater understanding and how to pick up and identify different cues.
19031207177
Feb 23 2023 03:59 PM
A better understanding of ASD. Different strategies to use in the classroom. Educate families to be accepting of children with neurodiversity.
19031207250
Feb 23 2023 03:59 PM
Understanding students need for structure and routines in the classroom
19031207006
Feb 23 2023 03:58 PM
Understand my neurodiverse students and how I can better help them.
19031206986
Feb 23 2023 03:58 PM
To help deal with situations
19031207099
Feb 23 2023 03:58 PM
Strategies to help assist children
19031207035
Feb 23 2023 03:58 PM

Parental sessions.

Support.

Understanding.

Ideas, tools and strategies.

Different btw meltdowns and tantrums.

All of it.

19031207153
Feb 23 2023 03:58 PM
It will help me help the children in my class
19031206991
Feb 23 2023 03:58 PM
Immensely!! Would love to do another on ODD..
19031207109
Feb 23 2023 03:58 PM
Has reassured me that I am doing an awesome job and also given me more strategies in my toolbox.
19031207020
Feb 23 2023 03:58 PM

Clear lines have been drawn to understand the difference between diagnosis and levels.

Sensory strategies and tips to implement in the classroom/ household.

19031207158
Feb 23 2023 03:58 PM
Classroom startegies, consistent home and school expectations.
19031207023
Feb 23 2023 03:58 PM
Better understanding and acceptance of student differences.
19031207012
Feb 23 2023 03:58 PM
As a parent this is amazing as a TA I will use so much in the classroom
19031207069
Feb 23 2023 03:58 PM
Absolutely
19031207119
Feb 23 2023 03:58 PM
Understanding what is happening for this child and how the environment set up snd routines + or - impact them
19031206913
Feb 23 2023 03:57 PM
Understanding kids I work with and how to better work with them
19031206884
Feb 23 2023 03:57 PM
Understand when and how to interact with students
19031206844
Feb 23 2023 03:57 PM
Taught me so many strategies to try on a range of different learners.
19031206928
Feb 23 2023 03:57 PM
Strategies to help in classroom and with my own children.
19031206915
Feb 23 2023 03:57 PM
Refreshed strategies I had forgotten to use. New strategies to try.
19031206889
Feb 23 2023 03:57 PM
Practical skills and knowledge. Tools to use in a practical way.
19031206908
Feb 23 2023 03:57 PM
More strategies to work with them.
19031206946
Feb 23 2023 03:57 PM
More strategies to cope with behaviours.
19031206970
Feb 23 2023 03:57 PM
More confident in supporting ASD students and helping teachers with strategies
19031206917
Feb 23 2023 03:57 PM
Lots of practical strategies
19031206974
Feb 23 2023 03:57 PM
Lots of great takeaway strategies
19031206969
Feb 23 2023 03:57 PM
It has given practical strategies and actions to use tomorrow! Thank-you
19031206963
Feb 23 2023 03:57 PM
It has given me a range of tools to utilise, as well as things to be aware of and look out for
19031206952
Feb 23 2023 03:57 PM
Increased my awareness nd I know I am on the right track twitch what I am doing!
19031206874
Feb 23 2023 03:57 PM
Greater understanding in what to look for to help me support children before they escalate to a meltdown.
19031206966
Feb 23 2023 03:57 PM
Definitely made me reflect and reassess to add in more strategies.
19031206867
Feb 23 2023 03:57 PM
As a mum, strategies I can use at home.
19031206931
Feb 23 2023 03:57 PM
Absolutely
19031206798
Feb 23 2023 03:57 PM
A better understanding of my students with ASD
19031206813
Feb 23 2023 03:57 PM
When you know more you can teach more. Thank you Sue.
19031206788
Feb 23 2023 03:56 PM

Lots more strategies to try

Different perspectives to apply

19031206744
Feb 23 2023 03:56 PM
Greater understanding, useful tools
19031206751
Feb 23 2023 03:56 PM