Teaching Strategies and Behaviour Support Live Virtual Workshop
Register now limited tickets available.
Bonus Posted Welcome Pack for Early Bird Registration
(Hosted on Zoom)
LIVE Virtual Workshop
Wednesday 17th November 2021
9am to 3pm AEDT Time
Understanding Autism Spectrum Disorder
Can't Make This Date?
Sue Larkey On Demand Online Course
- Same Content & Accreditation
- Can Do AnyTime and AnyWhere
Same Content as Face to Face Workshop
Teacher Accredited All States (incl NESA)
Questions, Interactive and Engaging
Teaching Strategies for School & Home
• What is Autism Spectrum Disorder
• Autism learning style
• Key teaching strategies from pre- school to secondary
• Classroom strategies
• Promoting understanding in peers
• How to motivate and use special interests
• Visual strategies
• Social skills
• Teaching play
• Strategies for playgrounds
Behaviour Support for School & Home
What are Autism Spectrum behaviours?

Preparing child and staff
Common playground issues
Meltdowns
Anxiety
Transition strategies for school (preschool, primary and secondary) and home
Repetitive and obsessive behaviours
Sensory issues
WHO SHOULD ATTEND & WHAT PAST PARTICIPANTS SAY?
Teachers, Teacher Assistants, Early Childhood Educators, Parents, family members, care staff, educators, clinicians—anyone wanting to understand more about Autism Spectrum Disorder and how to support children and adults.
Accredited Professional Learning (5 hours)
This course is suitable for Vic teacher Annual Professional Learning Requirements
Australian Professional Standards for Teachers at the level of Proficient Teacher 1.2.2, 1.4.2, 1.5.2, 1.6.2, 2.6.2, 3.3.2, 3.4.2, 4.1.2, 4.3.2, 6.4.2 for the course "Teaching Strategies and Behaviour Support for students with an Autism Spectrum Disorder" presented by Sue Larkey.
For NSW Teachers 
This course is NESA Accredited PD until 31 July 2022
A teacher's completion of this course with interim accreditation will count towards their NESA Accredited PD requirements
Completing Making it a Success – Teaching and Behaviour Support strategies for students with an Autism Spectrum Disorder presented by Sue Larkey online before 31 July 2022 under NESA's interim arrangements will contribute 5 hours of NSW Education Standards Authority (NESA) Accredited PD in the priority area of Students with disability addressing standard descriptors 1.1.2, 1.5.2, 1.6.2, 3.4.2, 4.1.2, 4.3.2, 6.4.2 from the Australian Professional Standards for Teachers towards maintaining Proficient Teacher Accreditation in NSW.
Where and When
Wednesday 17th November 2021
ZOOM Meeting
8.30 am to 9am  – Virtual Check In
9.00am to 3.00pm – Virtual Workshop
EARLY BIRD (Bonus Posted Workshop Welcome Pack) $185
per person on or before 10th November 2021
FULL FEE (Digital Downloadable Workshop Pack) $205
per person after 10th November 2021
Registration essential, limited places available
TERM 4
Sue Larkey
is a highly qualified special educator who has taught in both mainstream and special schools. She is currently working towards a Doctorate of Education focusing on inclusive schooling. She has authored several books and resource materials. Sue is unashamedly passionate about her mission – to inspire parents and educators and teach them how to Make it a Success. Armed with the tools of understanding and confidence much can be achieved. "To know someone with Autism Spectrum Disorder is not to know Autism Spectrum Disorder", Sue Larkey
Workshop Feedback
"It was all you promised – practical, fast moving, fun and motivational. You have a great understanding of ASD and a true talent for sharing your knowledge and passion in a way we can relate to"
"My son's teacher said it's the best inservice she has ever had! She has had an epiphany! She understands it all so much better. She has some great ideas for the aide! She feels empowered and inspired! This is so great for all her future students too"
"I think perhaps I've just been struggling along trying to find my way not knowing where to start. I felt so well informed when I left the presentation, I learnt so much"
"I spent a lot of the day reflecting on my own teaching practise and came out of the workshop full of what is really just best teaching practise for all children, not just kids on the spectrum. You are a wonderful presenter and are a brilliant advocate for these children"
Online alternative
Can't Make This Workshop? Consider completing Sue Larkey's Accredited Online Course on elearning.suelarkey.com.au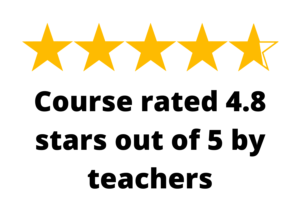 Sue's Online Course is Rated 4.8 Stars out of a Possible 5 by Teachers.
Is the Virtual Workshop Accredited?
All courses will have a certificate that can be used in any State/Country for Professional Development Hours.
For NESA & TQI, after the workshop we will register your hours so please make sure you include your Full Name & Number as per your registration to ensure we can that organise for you.
Will there be breaks?
Yes! The course will be going from 9am - 3pm. There will be two breaks from 11am - 11.30am and from 1pm - 1.30pm. During the session I will also be running engaging & movement activities to ensure we are not all sitting at our screens all day.
Would it be suitable to watch as the whole school staff?
YES we have had lots of people attend as whole staff. You will still need to register individually or you can organise a PD day just for your school.
Will the sessions be recorded?
Yes. Participants will be sent the link to the replay and will have access for 3 months.
Can I do a Virtual Event that isn't specifically my State/Country?
Absolutely, you are welcome to join any Virtual Course that is on a date/time that works for you. Just remember when you get emails, the time of the event will be referring to the time zone of the State/Country you selected.
Can I watch with a group?
Yes you can, but you all need to register individually. However, you are more than welcome to sit together on the day if you prefer to learn as a group.
Will Sue take questions?
Absolutely! This is going an interactive course & I will be collecting questions prior to the event and weaving them into the presentation. There will also be a Q&A at the end.

There will be a few ways for you to ask questions to make sure you are the most comfortable. There will be an opportunity to ask questions in advance via email, you can ask questions in the chat or feel free to ask via audio, and you can always email me after the event as well if you still have questions.
What happens if there are technical issues? What if the internet fails?
We have a virtual workshop check-in at 8:30am to ensure that you can be on at 9am ready to go.
We send you a Virtual Workshop Checklist.
Phone & Email support is available on the day.

If you have never used Zoom before there will be a cheat sheet available online.

The sessions will be recorded and we will send you the link to recording if you drop out during the day.

In the worst possible case we will give people access to the online course.
What if we have problems with Zoom?
We'll have phone and email support available on the day.
Our backup plan is to use facebook live. We will have created a specific facebook group prior to the event and we will move to there if need be.
Also the session will be recorded if it is not working at your end/you don't have Facebook you can always watch after.
What if I am a not comfortable with technology?
 We can help you set up Zoom and do a practice with you before the day so you can be all set for a fabulous workshop.
I am a Psychologist, will the course be helpful for me?
Yes, we have had many psychologists complete the online and face to face courses and found the content invaluable. If you watch the video with the testimonials on the registration page you will see a psychologist share her thoughts.
Will the course be aimed just for teachers?
No! Also relevant for parents/carers, psychologists, health professionals anyone who knows and works with people with autism.
Will there be handouts?
YES!
Early Birds will be sent the handouts to their door prior to the workshop. Everyone else will be send a ready-to-print PDF of the handout prior to the workshop.
Will there be break out rooms / a chance to network?
Are these covered under the NDIS plan?
It depends on which plan you are on, you will need to check with your provider (sorry as I know it can be difficult and time consuming). But I know many people who have successfully used their NDIS funding to watch a course (recommend asking on my Sue Larkey Parent/Carer Facebook Group how they did this).
Is there a Certificate?
Yes there is. We will email this to you.
What if I didn't receive the welcome pack?
Don't worry! All the resources and materials you need to successfully attend and complete the virtual event will be available for you to download prior to the day.